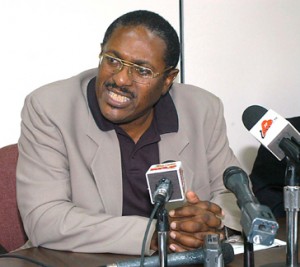 Remarks By Bradley B Roberts
National Chairman
Progressive Liberal Party
Press Conference to announce the PLP South Western Summit
PLP House Nassau Bahamas
Wednesday September 21st 2011
Ladies and Gentlemen
Doctors Kendal Major and Danny Johnson have provided an accurate & appropriate detailed explanation for this second summit, which follows the recent successful Eastern region gathering of the PLP. As mentioned, the theme of this three day Summit is "JOB CREATION AND EMPOWERMENT".
Focused,enthusiastic and dedicated leadership is paramount to job creation, as the record is clear that those who are presently charged with that sacred responsibility have failed our people miserably. I am obliged to remind my fellow Bahamians that the FNM in its 2007 manifesto promised to strengthen the Economy, promote increase Bahamian ownership and wealth and create new high quality jobs.Hubert Ingraham and the FNM's failure due to massive mismanagement of the economy have resulted in much pain and suffering for Bahamians who are deeply frustrated and terribly disappointed.
The levels of unemployment and underemployment in this country are staggering!  Job losses, which continue to escalate under the FNM, are widely accepted as having begun its downward spiral with the cancellation of legitimate contracts executed by Perry Christie's Government.  These cancellations were challenged in the Courts and the result of one in particular has blown up in the government face.  The taxpayers are now obliged to carry the heavy financial burden in the millions of dollars of this example- The Nassau Straw Market.
The services of long standing Customs, Immigration and Police Officers services have been terminated and their lives and that of their families are in a constant turmoil, as unemployment carries an array of emotions, ranging from stress and fear to anxiety and depression.  Unemployment contributes to low self-esteem and to family instability, deteriorating family relations and in some extreme cases domestic violence.  Positive 'Lessons learned' will no doubt emerge from those who cope well with unemployment  but the immediate goal of surviving, emotionally and financially, until persons have a clear direction for themselves and their families – will have unimaginable tolls on many families.
PM Ingraham told the Bahamian People that he needed money and therefore sold 51% of BTC, at a fire sale price, resulting in some three hundred plus high quality Bahamian jobs being outsourced to Jamaica and at the same time granting work permits to non-Bahamians for jobs at BTC.
Hardest hit by job losses has been Grand Bahama – the so called FNM Country – where job losses continue to escalate almost daily, with no (known) plan by the Government to reverse this depressing trend.
All of the above sadly speaks to the deterioration of our 'standard of living' and to the thousands of Bahamians families sinking below the poverty level!!
This is turn speaks more precisely to the escalating incidents of crime and murder,rather than the recent utterance of a Minister, who laid the blame for the rise in crimes and murders on the backs of Bahamian families.  Note the fact that many Bahamian families have been reduced to living from day to day – in desperate conditions and situations!  Note the fact that thousands of well-educated Bahamians are without jobs or hope.  Note the fact that great numbers of persons graduating from high schools and colleges during the past four years are without a job!
The FNM has demonstrated that they no longer have the passion or the vision – PM Ingraham told the Bahamian People on September 6th 2011 that "No new job growth is expected for the next year to year and a half".  Clearly this was an acceptance and acknowledgment by the PM of failure, which further delays the fulfillment of The FNM's pledge to the Bahamian people.
What will be the result of this empathy and lack of vision?  Immeasurable suffering inflicted upon many of our people.Bahamians in the past aptly and simply described it by saying, "While the grass is growing the horse is staving"  What kind of message did those callous remarks send to thousands of Bahamians who are desperately searching for a job to save their family homes that are under foreclosure? The thousands of distressed homes listing in the newspapers confirm this cruel and heart breaking reality.
Ladies and Gentlemen, "Ever so often in the course of human history there is a time of transition; Ever so often in the course of history of a nation and a people a new generation emerges upon the scene, with a fresh breath of vision, with new hopes and new aspirations", SIR LYNDEN O. PINDLING (P.86THE VISION OF SIR LYNDEN )
The Progressive Liberal Party has a plan for JOB CREATION AND THE EMPOWERMENT of our people.  Bahamians want to work and it is the obligation of a responsive Government to create the environment that permits the expansion of the economy. A new PLP Government will move with alacrity to generate jobs and ownership opportunities, as it did in 2002-2007 when some 23,000 new jobs were created.
We invite all to attend and listen to the various presentations by a fusion of talent, a cadre of talented and new generational trail-blazers and experienced leaders, sharing a new vision, hopes and aspirations for our nation, and experienced leaders.
A PLP Government headed by the Rt. Hon Perry G Christie stands ready to rescue the Bahamas from the abyss this clueless and visionless FNM Government through mismanagement have taken our Bahama land.