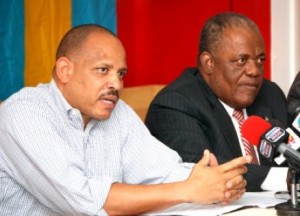 Nassau, Bahamas — The bad candidate in Elizabeth by-election, turned Senator in the FNM came from nowhere in the Tribune this morning, confirming that the Free National Movement Government has no solution to the vexing crime problem.
Sands told the morning daily, "If not for all the systems in place, our murder count would be three times higher than what it is now.
"We really need to get a grip because that number is only the tip of the iceberg."
The Senator's stinging admission delivers a fatal political blow to his cousin, Minister of National Security, Tommy Turnquest. He statement affirms that the problem is far worse than being presented to the public and that some people only survive attacks after they are patched up at the PMH.
The Bahamas reached a record 102 murders last night following the brutal slaying of Worshipful Master, Marvin Kerr, at his Garden Hills home. Kerr was shot 6 times by bandits who had invaded his home and gunned him down just outside.
Sands comments today in the Tribune echoes the collective call that the Ingraham Administration has lost control in the fight on crime and concludes, it is time for them to go.