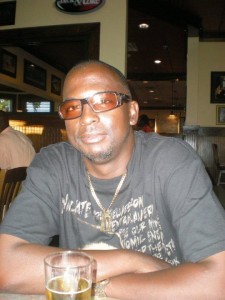 Nassau, Bahamas — The skyrocketing crime wave rocking the Bahamas has scuffed out the life of another citizen, this time a Worshipful Master in the Lodge.
Bahamas Press agents on the ground in the Garden Hills community confirmed late last night, the country's 102nd murdered victim is 40-year-old, Marvin Kerr.
The victim, we are told, was gunned down like a dog in the street just outside his residence on Taurus Court in Ideal Estates just off Soldier Road. Sources believe the incident was a result of a second robbery attempt at his home gone bad.
Readers would remember how back in late August this year, bandits entered the home of Kerr and proceeded to rob him and then shot him while holding him hostage inside.
Kerr recovered from that incident, but was not so lucky this time. He was killed by bandits with the hearts of HOGS AND DEMONS! They cannot give life, but yet, continue to take it.

Witnesses at the crime scene tell us blood was splattered in every direction where the victim laid. He was shot multiple times with one fatal bullet to the head. The slaying was clearly done with a high-powered weapon, as the bandits made good their escape vanishing into the night.
This latest attack casts a dangerous shadow on the nation's criminal justice system, which is responsible for the murder of countless citizens. Hubert Ingraham and Tommy Turnquest have gone on record; suggesting criminals are killing criminals without offering any solution to the crime fight.
We wonder if getting robbed constitutes one being a criminal?
We report, yinner decide!