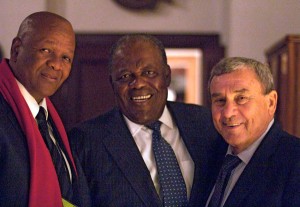 Associated Press
Atlantis on Paradise Island, Bahamas
.
With the Brookfield deal canceled, it remains unclear which of the dozens of creditors holding Kerzner's debt will emerge with control of the properties, which Kerzner continues to manage. Some creditors might be paid off—partly or in full—while others will simply will retain their portion of the debt.
Among the possibilities mentioned Tuesday by people familiar with the matter are Brookfield and Kerzner putting the assets into a trust while Brookfield goes forward with a formal foreclosure as Kerzner's junior-most creditor. Brookfield might also reach a compromise with other creditors for it to take over the resorts. If a deal can't be struck, putting the properties into bankruptcy remains an option, though Kerzner then could be liable under the recourse terms of its loans for up to $500 million of costs associated with such a move.
"We're reviewing all of our options," Brookfield spokesman Andrew Willis said Tuesday, confirming that Brookfield has dropped its earlier deal to exchange its $175 million of Kerzner's debt for controlling equity in the three resorts. He declined to comment further. Brookfield, based in Toronto, has $27 billion of assets under management.
Brookfield's original deal with Kerzner granted Kerzner multiyear contracts to manage the two Bahamian properties. After forfeiting the properties, Kerzner intended to shift its focus to managing luxury resorts across the globe rather than owning them. Kerzner manages a handful of other One & Only resorts as well as the Atlantis The Palm resort in Dubai.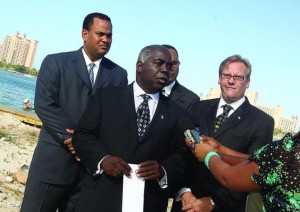 But shortly after Brookfield announced its deal with Kerzner to take over the resorts, other creditors sued in state court in Delaware to block the consummation of the Brookfield deal. Those creditors—Trilogy Portfolio Co. LLC, Canyon Value Realization Fund LP, the Canyon Value Realization Master Fund LP and Canyon Balanced Master Fund Ltd.—argued that the forfeiture benefited Brookfield to their detriment, in violation of terms of Kerzner's loans. Those creditors, with combined claims of $112 million, are slightly senior to Brookfield in the hierarchy of Kerzner's lenders.
Among other claims, the suing creditors argued that Brookfield wouldn't be required to protect other creditors from losses incurred in bankruptcy, windstorms, a sale of the properties or other events as Kerzner would have been under the past-due loans. On Friday, Delaware Judge Donald F. Parsons Jr. granted a temporary restraining order to bar Brookfield from closing the deal until a hearing for a preliminary injunction could be held Jan. 27.
"If the proposed transaction is allowed to close, plaintiffs stand to lose the benefit of contractually negotiated rights related to their priority relative to other participants, as well as contractual rights related to their relationship with the borrower," Judge Parsons wrote in his ruling.
Brookfield opted to cancel the deal rather than proceed with the hearing on the preliminary injunction.
An attorney representing the suing creditors, Sigmund Wissner-Gross of Brown Rudnick LLP, declined to comment on Tuesday. A Kerzner representative didn't return messages seeking comment by Tuesday afternoon.
Kerzner's debt troubles are linked to the company's $4 billion buyout in 2006 by Dubai World investment arm Istithmar World, Colony Capital LLC, Goldman Sachs Group's Whitehall real-estate funds, Baron Funds and the family of Kerzner chairman Sol Kerzner. The buyers piled $2.5 billion of debt on the Bahamian Atlantis and the two other resorts to finance the buyout.
Kerzner continues to manage a handful of other One & Only resorts as well as the Atlantis The Palm resort in Dubai, which it owns with Istithmar. Kerzner and Istithmar have discussed Kerzner selling its 50% stake in the Dubai resort to Istithmar to raise money for paying down Kerzner's $400 million of corporate debt.