Acting Prime Minister Davis will open the Conference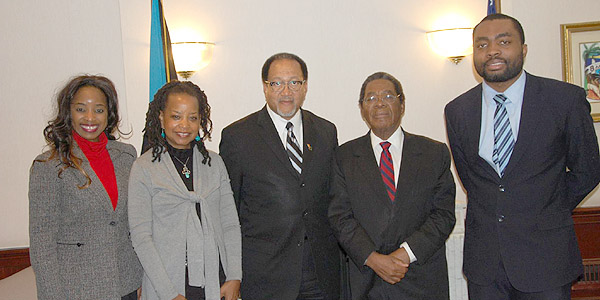 WASHINGTON, D.C. — The annual mid-winter meeting of the National Newspaper Publishers Association (NNPA), whose membership includes the Publishers and Editors of all the Black-owned newspapers in the United States, opens at the British Colonial Hilton in Nassau, Bahamas, this Wednesday, January 28 and will run through Saturday, January 31.
The President of the NNPA is Dr. Benjamin F. Chavis Jr., the noted civil rights leader and a former President of the NAACP.
Acting Prime Minister Philip "Brave" Davis is scheduled to address the publishers and editors on Thursday at their gala dinner.
In preparation for the Nassau meeting, Dr. Chavis and Mrs. Denise Rolark-Barnes, Publisher and Editor of the Washington Informer, an NNPA award-winning member newspaper in Washington, D.C., paid a courtesy call in December on His Excellency Dr. Eugene Newry, Bahamas Ambassador to the United States.