The Council concerned with rape – but is mute over sodomy? What is that?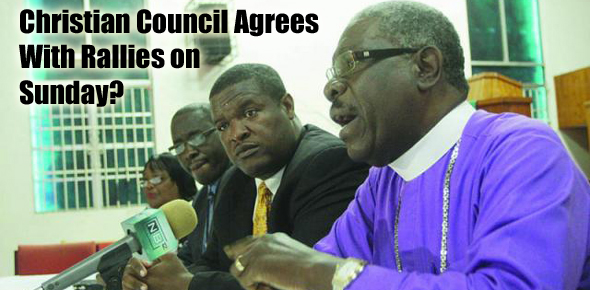 Christian Council is politically COMPROMISED!!!!
Nassau, Bahamas – This morning's edition of the Nassau Guardian left this BP writer in shock after the Christian Council sounded a warning over Carnival.
Christian Council President Rev Dr Ranford Patterson said the group has concerns over the "immodest" costumes for women being promoted for Bahamas Junkanoo Carnival.
"We do not share the view that our women should be on display as objects; accordingly, we call on all concerned to resist the push to treat our mothers, daughters and sisters with such gutter-like disrespect," he said.
Patterson believes "…. immodest and immoral body displays could well become the breeding ground for the premature sexualisation of our children as they will not be immune from these perversions."
The BCC President's statements have left us at Bahamas Press gasping for air and here's why. When the inaugural Bahamas Gay Pride, known as Freedom Weekend Pride in Paradise, took place over Labor Day Weekend, from Friday, August 29, through Monday, September 1, 2014, at the all-inclusive Viva Wyndham Fortuna Beach on Grand Bahama, we at BP didn't hear one pin drop from the President of the Christian Council.
Further on that, when the famous preacher known for everything LONG came to the Bahamas for a special conference in October 2012 just after settling out of court over sexual allegations with a number of young boys – including a Bahamian – where was the voice of the Christian Council? They made not one statement in the press on that event.
Or perhaps many Bahamians are asking where are the moral voices out of the Christian Council to encourage Bahamians to get a grip on their social skills in abating this problem of murder in the country? ON THAT they have nothing to say!
What we at Bahamas Press find deeply 'sickening' is how the Council appears mum when it comes to one thing, but when an event that people – like the Baptist President William Thompson – find exciting, people like Ranford Patterson seem to have a problem?
The point is, if pastors can participate in Junkanoo and have dancing and rushing in church, then someone please tell us why does the BCC have a problem with Carnival?
The point is that the people who don't believe in masquerading will not go to Junkanoo nor Carnival. But the people who love to party will show up, no matter what the name is.
Our conclusion though is this: why is there no comment by Patterson Presidency on the Gay Pride event, which went on totally without comment by the Christian Council?
That should tell us all something!
We report yinner decide!