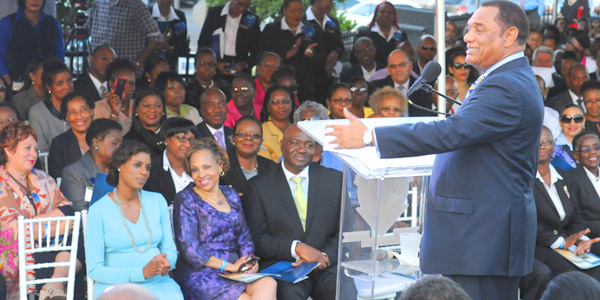 By Betty Vedrine
Bahamas Information Services
Nassau, Bahamas – The newly constructed 66,000-square foot Critical Care block has finally been constructed. Prime Minister, the Rt. Hon. Perry G. Christie, was in attendance for the official opening ceremony, which was held on Thursday, January 22.
Mr. Christie said that it was a significant investment for the country. "This facility represents an investment of over fifty million dollars in construction costs and a further forty-five million dollars in medical equipment, management information systems and furniture which has extended across two successive government administrations and two Prime Ministers," said Prime Minister Christie.
"This modern medical technology is the culmination of the single largest financial investment in the public health system in this nation since the initial construction of Princess Margaret Hospital itself over 60 years ago. We are therefore looking at a one-shot investment of close to $100 million. As I have alluded to, it is money well-spent for any number of reasons," said Mr. Christie.
He said that this state-of-the-art, modern healthcare facility stands ready to service the needs of the Bahamian people. Mr. Christie said that the new wing stands comparatively well against other similar establishments in the region and elsewhere.
"This is a reminder of how far we have come in terms of the level and quality of health care that is available in our public institutions," he said. "It comes at a cost but in terms of the benefits and the quality of care which this facility will provide, the benefits will far outweigh the cost. Moreover, it cements the place of prestige that our tertiary care has earned and it builds confidence and pride in the staff and all those associated with this facility."
The Prime Minister commended the leadership of the Minister of Health, the Hon. Dr. Perry Gomez, and his predecessor, the Hon. Dr. Hubert Minnis, the Public Hospitals Authority under its various Chairmen and Boards, and the Critical Care Block project team for their steadfast commitment to bringing a project of this scale to completion. In addition, he lauded the contributions made by other key individuals, including consultants, architects, engineers and other experts who were instrumental in bringing the building into fruition.
"The collective talent of this team of professionals is a poignant statement and affirms my Government's view that we must believe in Bahamians," he said.