Hubert Ingaham and Zhivargo Laing steering defeat like a deer in the headlights...

Civil Servants are set to VOTE DEM OUT!
Nassau, Bahamas — BP has been inundated with information from Senior Civil Servants who feel slighted and abandoned by this uncaring FNM Government. It appears that only friends, family and lovers have been promoted into the senior ranks.
Papa Clown has promoted two persons to the post of of Permanent Secretary. They were, his sister in law, Nicole Campbell and Carl Smith.
Nicole Campbell is the younger sister of Delores Ingraham and is posted at The Ministry of Youth and Culture, headed by the Pillsbury Doughboy, Charles Maynard. Maynard is said to be afraid of Ms. Campbell and cowers like a little boy around her.
Ms. Campbell is said to be a " tyrant" like her brother in law, Papa Clown. Persons fear for their careers in the service and she is said to practice cronyism at the same level of Papa Clown. Both of her close and personal friends have recently been promoted to the senior ranks of the service.
Cora Colebrooke, a bosom buddy of Ms. Campbell, has been promoted to an Under Secretary and is posted at Immigration. Phedra Rahming, another close crony and lackey of Ms. Campbell has been promoted to DPS and is posted at the Ministry of Youth. She was only recently seconded to that Ministry upon the elevation of Ms. Campbell.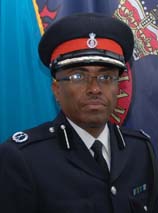 Both of these close friends of Ms. Campbell, attended the CARIFTA swim meet last year in Barbados at the expense of the Bahamas Government, despite the fact that they had no direct carriage of sports.
The Civil Service is about to repay Papa Clown for only taking care of these friends, family and some say lovers. The FNM treachery will be rewarded by a vote of no confidence and the likes of Nicole Campbell will surely get their comeuppance.
Readers would remember how Campbell's children went on a joyride to meet with the King of Spain's grand children in the Aga Khan's luxury helicopter.
Police tell us D-DAY is coming for the FNM as the government we know THE FNM GOVERNMENT plans to let go 200 officers if re-elected. They also plan to remove the commissioner of police and appoint Quinn McCartney to the top job. But police are not only angry at these things alone. They are 'cussin' at the fact that scores of officers were promoted over HARDWORKING police who were recommended for promotions on merit by the Commissioner. but Tommy and the Crime Boss sent a different list back down for promotion and from what we are hearing they intend to import expat officers into the new leadership.
Now we move to our real story with documents we we know another friend, family and lover was being promoted in the service. She is the a relative of the former Governor GENERAL IVY Dumont. She recently join the service and skipped several ranks.
Civil Servants tell BP, "Payback will be a BITCH for Papa and his outgoing minions [GOVERNMENT]." – SEE ATTACHMENTS BELOW!
Meanwhile our sources in the OPM tell us new workers will show up at government offices throughout the country tomorrow morning. We call on all our agent at various government ministries and department to take pictures of these new hires and forward them to media@bahamaspress.com .
Civil servants must get them out! You must FIRE THEM!
We report Yinner Decide.
It aint Long now Hologram Papa Clown!