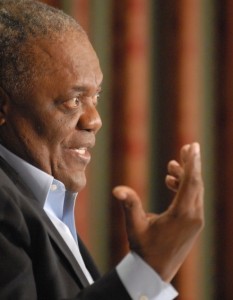 Clarence Town, Long Island — The soon to be fired outgoing Free National Movement government jetted a team into a family island over the weekend all to find supporters on Long Island have gone cold. If Saturday's showing at the Clarence Town Community Centre meant anything the FNM is set to lose Long Island.
Prime Minister the Rt. Hon. Hubert Ingraham joined party faithful in a special honouree exercise to rally the base for the upcoming general elections. What was shocking, however, was the fact that the room was half empty? Less than 35 residents attended and some being honoured never showed up at the door.
"The turnout was so poor and embarrassing, papa looked disturbed the entire night. Not a young person showed up at the event, and Larry Cartwright appeared disappointed.
"We could not believe the event was a no show on the island where there is little to do. Many people are so disillusioned with the governing FNM, and we have heard the same in Abaco and in North Eleuthera. However, to see it here first hand on Long Island proves a national tidal wave is set to sweep the FNM out of office," a Long Islander said.
While the party faithful on Long Island sat in disappointment, PLP candidate for the area, Alex Storr, appears to have taken off by storm as he met islanders. Storr we are told is more visible then the island's MP and is winning major support among local residents.
One senior PLP said as he made a second sweep in the community over the weekend, "The talk in North Eleuthera is, 'we are going with Clay all the way'! The entire community of Long Island is making the change away from the FNM. Everywhere you turn in this country people have had it with the governing party.  Here in Long Island all we hear them say, '….WE GA WIN FOR SURE WITH STORR!"