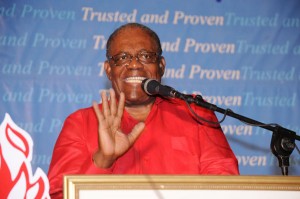 Remarks Opening of North Andros Constituency Office
Rt. Hon. Hubert A. Ingraham
Party Leader
11 February 2012
North Andros;
FNMs:
I'm very happy to be in North Andros tonight; I like what you see.  I've come here with my man, the FNM's man and North Andros' man.
Last weekend we were in San Salvador with Michael Pintard.  Night before last we were in Elizabeth with Dr. Duane Sands.  Let me tell you something:  The FNM is overflowing with talent.  With the FNM, the future will be in good and safe hands.
We went to San Sal and to Elizabeth to announce our plans to retire Brave Davis and Ryan Pinder from the House of Assembly.
You know that Brave and Ryan like to hang out together.  Well after they are retired they'll have plenty of time to keep each other company.  They might even be able to travel the world together.  When Brave jets off to go see his foreign backers he could pick up Ryan from his house in Florida.
Next week Colour Red will move to Marco City in Freeport, to Bamboo Town and South Beach in New Providence.  Tonight Colour Red is in Da Big Yard!
In recent times I've been to Mayaguana, Inagua, Crooked Island and Acklins.  Take it from me – Alfred Gray gone.
Before I talk Desmond; my man and your man, let me say something briefly about that man-made Category 5 disaster last night that the PLP called a candidate launch.
You know, there's Saturday Night Live.  Then there's what the PLP put on last night:  Friday Night Dead.  Dead boring, dead buss up, just dead, dead, dead.  And, yeah, I dead serious.
Everybody knows that Christie likes to talk.  But, he couldn't even get that right last night.  The teleprompter broke down, the speech was late, and Perry went and on and on and on and on saying absolutely nothing.
Of course, this was all typical PLP: late-again; disorganized; hackle up; discombobulated; incompetent; performance over substance.
The problem was simple – there was nobody in charge, so everything fell apart.  Christie didn't even know what was in his own speech.
You know they are running Dr. Perry Gomez down here.  Perry Gomez is known to me and I to him.  I really don't know, and neither does he, when he got religion of politics – front line or back line because he has never been involved in any kind of campaign before. One day I will ask him the question but since you gonna see him before I do, please ask him when he comes to your house: When did he discover that Hubert Alexander Ingraham was bad for The Bahamas – did he discover that while he was in his forties, fifties, or when he was 60, 61, 62, 63 and 64? And how long did he discover that before he became 65 and facing mandatory retirement from the Ministry of Health/Public Hospitals Authority?  And ask him when did he become interested or concerned about North Andros and people like you who do not have AIDS? When did he become concerned about you? In short ask Perry when was his was his moment on the road to Damascus?
You know they got a song that says Inagua is the best kept secret in The Bahamas.  Well Perry Gomez's seat is even more secret than that, because he didn't know that he was running until he was running! It was a secret from him.
Perry Christie shouldn't do this to Perry Gomez.  He knows better.  I heard Christie talking last night about who is clueless. Well Perry Gomez don't have a clue about what he is doing running in North Andros.
I also heard my friend Perry Christie – well I still call him my friend though he said on the radio the other day I am told, that I ain't his friend anymore. Don't get vex with me man! Take your licks like a man!
And Perry Christie at 68 years of age telling me at 64 years old that I gat to go!  Yes, I'm going one day but guess what; he ain't coming. And secondly, for all those who believe him that Hubert's gotta go, I just want to say to them – what happens if Hubert don't go!
You see, Gomez got here because Perry Christie panicked after Vincent Peet's secret from some people couldn't be kept secret from all and sundry. And he caught Gomez in a weak moment; at retirement, with little or no private practice and fearful of facing the world from which he had been sheltered in the public service virtually all his working life.
But Gomez ought to know Perry better – cuz Perry is a promiser. A deliverer on promises he is not.  Ask Malcolm Adderley, Pleasant Bridgewater and some of the candidates he's running now what he promised them?  And ask then what he delivered?
You know when Christie tried to get an FNM (who is running for the FNM this time) to run in his ticket, he promised to make him the Minister of Youth. And the young man said Christie said:
"Next year when you are the Minister of Sports attending the Olympics in London and I as PM, I'll be accepting your call telling me how our athletes are performing.   FANTASY LAND Christie lives in!
And you know, Vincent Peet let you down. And so did the PLP.  They tell you anything yet? They really have got no regard for you then. Well, they've dissed you, so you know what to do with them.
You trusted Peet despite the lies he told about the money that was given by the bank for your gym. Ask Alphonso Smith – he knows. And ask them about the Korean boats that were down there hiding out, and the money in the closet! – You still voted for him.
You know, certain people should have spent less time counting and recounting and checking and double-checking the money they had stashed away in that bag in that closet.  Then maybe they would have had more time to tend to your business.  I guess they had millions of reasons why they weren't checking for you.
Now – and this is serious – you elected Vincent Peet to the House, and he doesn't come to the House anymore.  He has stopped coming. Your seat in the House is unoccupied!  Your seat is vacant. Now, I hope he's coming down here. I know he's shame, I understand that, but come down and tell your people that, "listen – I didnt really abandon you, I really wanted to stay with you but you know…these fingers! I've got a finger problem."
You know, what you can do in the dark all comes in the light sometimes!
FNMs:
Someone here asked me: "Papa, you 'gat a Valentine for us?"   Well, yes.  I am here to offer you the best Valentine gift I could give.
North Andros and the Berry Islands:
From my heart to your heart, signed, sealed and delivered – Desmond Bannister!  He is yours!
Some people in Carmichael still vex with me for Desmond moving to North Andros and the Berry Islands.  I tell them that the country and the FNM are gaining by Desmond moving.  In Desmond Bannister and Darron Cash in Carmichael we will have two filled instead of one and seasoned talent and new young talent to add to our dynamic team.
But since somebody ask for a Valentine:
Roses are red
Violets are blue
We 'ga pick up North and South
We 'goin for all two.
Instead of PLP neglect
Your FNM will show you respect
From North to South & Mangrove Cay
In 2012 come go with me!
By the way, Papa dead serious about winning the two Andros seats this time.  You have been neglected too long by them other people.  It's time for Andros to be delivered!
Over the past 44 years you voted FNM once.  And for the PLP 8 times.  And what do you have to show for your support; your loyalty?  Broken promises?  Since you been fishing on that side of the boat for 40 years and caught nothing, throw your line on this side! Come with me!
North Andros:
Andros is the Big Yard. Andros is not just a Bahamian giant.  Andros is the fifth largest island in the region.
I don't have to tell you that the potential of Andros, north, central and south is enormous.
The late great Clarence A. Bain used to say "Andros O' My Andros".  He loved Andros.  It broke his heart when he thought that the Andros he loved wasn't getting its due.
For a quarter century Andros was represented in the House by the Prime Minister of The Bahamas. Go to Abaco where the Prime Minister represents Abaco. For 25 years you were represented by the Prime Minister, and then you had Loftus Roker and then Darrel Rolle. And you got Earl Deveaux for one time.
Somewhere in the heavens Clarence Bain must be saying, "Andros O' My Andros".
You know, Shandrice told you about the chat she and I had. I told Shandrice that I've got something else I want her to do. I want to pick up those two Andros seats.
I've got five Andros men or decedents sitting around the Cabinet table. There is no other island in The Bahamas that has got more members of the Cabinet than Andros you know.  I said to all of them:  Earl Deveaux, Hubert Minnis, Phenton Neymour, Byran Woodside and Desmond Bannister that one of you has got to go down to Andros! No ifs, ands or buts about it. I want to pick it up and I want one of you to go and get it. Desmond Bannister volunteered – thank you Desmond! He has a safe seat in Nassau, but he volunteered to come here on this mission – the mission to pick up this seat.
Desmond's assignment and mission is not just to win this seat.  His bigger mission is to help take Andros to new heights in The Bahamas. You've been left behind too far. We want to give you accelerated movement forward, and we send you one of the best men I've got – Desmond Bannister.
I want to thank Shandrice for her service.  We are all very appreciative of all you have done for us. And you can be assured, as I have told your privately, I tell the public now – there will be a place for Shanie when the FNM wins.
Ladies and Gentlemen,
We are at a critical point in our nation's history, and in particular we are at a point in which we cannot afford to lose any opportunity in moving Andros forward.  Andros has been very loyal to the PLP, but he FNM has been good to Andros.  I sent you Earl Deveaux and after one term you went back to the PLP.  I understand, I am not complaining. I am asking you to support one of your own again this time.  Invest in Desmond.  Invest in the FNM.  Invest in yourselves – vote FNM.
We are beginning to improve your infrastructure.  You know the PLP make alot of noise about us going things, but it is the things we do that are the things you need.  I couldn't believe my eyes when I went to Staniard Creek last year at Crab Fest time, to discover the roads in Staniard Creek. You cannot have jobs without roads, electricity, water, education facilities. These are things we invest in to make life better for you.
Desmond is one of you.  He has proven himself in taking on the tough job and making a big difference. I gave him the largest Ministry  in The Bahamas that spends the most money in The Bahamas, and those who work in Education and parents, all attest to the improvements in that sector once Desmond has been at the helm.
He has been tested and he has been proven.  As you can see, he is ready, willing and able to work for you.  It is in your collective interest, and more importantly, in the interest of The Bahamas and children yet unborn for Andros to elect Desmond Bannister.
We are going to win the election.
God willing, the FNM is going to be the government again. I want Andros to be with me in Government. I don't want you outside, I want you inside and we've got the man for you to be inside with.
We are delivering some of your needed infrastructural upgrades. We are helping to improve your quality of life. We are reconstructing and paving the roads to the tune of $2.5 million in Staniard Creek and also dealing with the leaky water pipes there.
We are constructing, at a cost of $1.7 million, the Fresh Creek Dock;
We are building two new bridges down in South Andros at a cost of $1.7 million at Deep Creek and Little Creek
We are planning for the construction of a new school Lowe Sound, Andros
In addition you are also benefitting from a number of national programmes; the National Job Readiness and Skills Training Programme and soon the Jump Start Programme.
Soon we will be replacing leaky pipes in Mastic Point, South and North and reconstructing your roads.  Then we'll move to Nicholls Town as we commence the restoration and the development of North Andros.
You hold huge promise Andros. You need a seasoned son as your MP. holds huge promise in agriculture.  I am giving you one of the FNM's best. Don't look this gift horse in the mouth.  Take him. Hold him near and dear to you. He is a man of influence, a man of promise,  a man who has a good way to go.
Ladies and Gentlemen,
You in Andros need to be where its at, and you need to be where its going to be. Is at the FNM and it is going to be with the FNM.
You need the Party that delivers, and not the Party that makes promises.
And so you need to be with the Party who will work for you. Desmond is the man. I'm coming back here one more time before election day, God willing.
I am counting on you, because you can count on me.
Vote FNM!!
Thank you, goodnight.