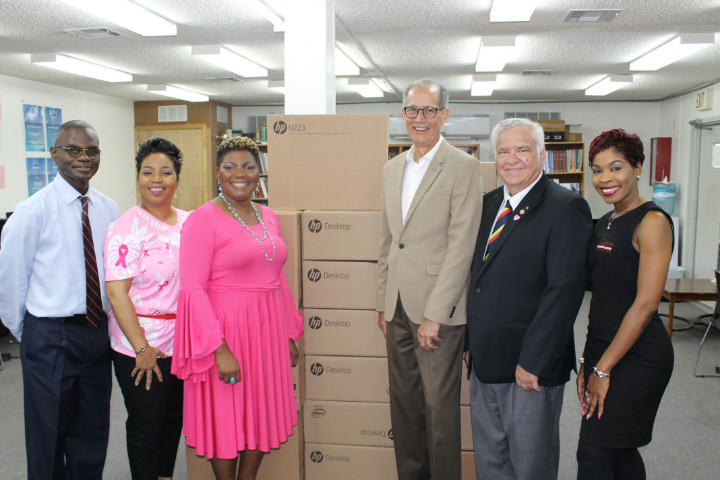 The Bahamas Technical and Vocational Institute (BTVI) recently received a generous donation of 13 desktops and 15 monitors to be used in its Student Resource Center.
Retired accountant, Robert V. Lotmore partnered with Custom Computers to make this donation in hopes that others will follow suit in investing in a BTVI education.
"When I became aware of BTVI's dire need for computers, I immediately decided to get involved, recognizing the importance of technology in today's education system. Further, I hope this donation helps to spur other individuals, organizations and companies to donate to this valuable institution," said Mr. Lotmore.
"I take this opportunity to encourage corporate Bahamas to invest in our people who are undertaking a technical and vocational education. The skills they will acquire are desperately needed in a modern, functioning society. These students will graduate and eventually work on our vehicles and computers, and repair our light fixtures and our plumbing," he added.
Director of Custom Computers, Pia Farmer said the company understands that technology is a crucial component of the learning environment.
"We are proud to have once again partnered with BTVI as it continues to encourage members of our community to, 'Learn, Grown, Achieve,' by pursuing excellence in education," said Ms. Farmer.
"We congratulate the institute for providing the opportunity for students to improve their skills set by offering numerous options for academic growth and technical training," she added.
BTVI's Associate Vice President of Fund Development, Alicia Thompson is thankful for donors like Mr. Lotmore and Custom Computers that continue to invest in BTVI and help the institution to effectively provide quality education.
"This donation by Mr. Lotmore and Custom Computers will now enable us to accommodate twice as many students in our Student Resource Center as we did previously. The use of technology is prominent on our campus and as we prepare our students to be globally competitive, computer access is of utmost importance," said Ms. Thompson.
"While accessing a computer may be a small deal for some, we still have many students whose only access to a computer is in one of our labs. With our increase in enrolment, there is a corresponding need for additional computers. It is our hope that a lot more persons will follow the lead of Mr. Lotmore and Custom Computers and make donations to the BTVI," she stated.