While the various NYGÅRD product lines have already become enormously successful and an established staple in the fashion industry, industry leader Peter Nygård has no intention of slowing down.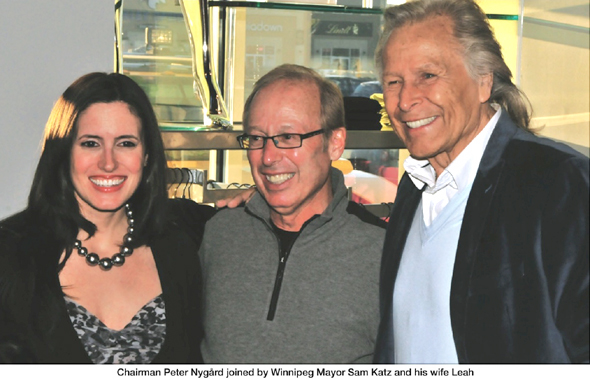 Winnipeg, Canada (PRWEB) February 14, 2013
His lines have become synonymous with discerning women of taste over the age of 25– all of whom have much to look forward to in 2013 as they enjoy shopping at an array of retail stores under the banners NYGÅRD, NYGÅRD Fashion Park, NYGÅRD Fashion, ALIA, TanJay, Jay Set and the website http://www.Nygard.com. The debut of new NYGÅRD spring and summer designs will be one of the fashion industry's most anticipated events of March and showcase an amazing and diverse line of apparel which will preserve NYGÅRD's long-standing commitment to offer "the fit for every woman."
In 2013, Peter Nygård plans to continue expanding his fashion lines at an ever-increasing pace including a distinctive array of licensed products. NYGÅRD customers will enjoy bold new additions in outerwear, handbags, jewelry, footwear, accessories (scarves, hats and gloves), belts and especially gorgeous swimwear certain to turn heads during the upcoming summer months.
"It only seems like work if you're doing what you don't want to do," says Peter Nygård. "There is nothing I love more than designing the next big thing in fashion and my commitment to offer our customers even more exciting choices and options will never waiver." While intense preparations are underway for next month's 2013 spring and summer collection debut, both buyers and customers will be pleasantly pleased at the expanded fashions, bold new designs and exquisite style that has become expected from every product carrying the NYGÅRD name.
About NYGÅRD International: Headquartered in Winnipeg, Canada, NYGÅRD International is a leading fashion company and designer of women's fashion apparel that is targeted toward women over the age of 25. The company expanded into the United States in 1978 and in 1987 opened their International Sales and Marketing Headquarters in Toronto, Canada. Along with its new World Headquarters located in the heart of New York City, the company lays claim to complete design, production and distribution facilities in Winnipeg, Toronto and Los Angeles; research and design studios in New York and Hong Kong; and sales offices throughout Canada and the US. NYGARD also has extensive operations throughout China, Jordan, Lesotho, Kenya, Egypt, Bangladesh, Indonesia & Cambodia. For more information please visit http://www.peternygardglobal.com.