Jobs and food ready for Bahamians —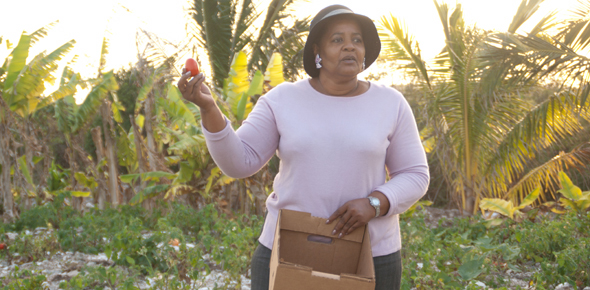 North Eleuthera – Fredrick "Fine Threads" Neeley, President of the North Eleuthera Farmers Association took pride in showing off his 21 acre farm to visiting journalist Phillippa "Lady" Russell on Saturday evening.
Lady Russell delightfully picked Tomatoes, Cabbages, Sweet Peppers, Aragula, Broccoli, Cilantro and other herbs too numerous to list, while  praising the NEFA President's efforts in restoring Eleuthera's former title of Agricultural Breadbasket of The Bahamas.
"A renewed focus upon, and commitment to, the sustainable development of our agricultural sector will grow our economy, create entrepreneural opportunities for our people and improve the health of Bahamians by the provision of fresh, wholesome, nutritious products," Neeley said.