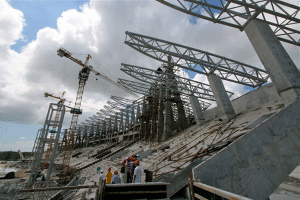 Nassau, Bahamas — Touted as the largest of its kind in the region, the new national stadium nears completion with just nine months left to go.
During a site tour led by Project Manager, Iram Lewis, Monday, September 13, Ministry of Tourism officials and the media were invited to see new developments at the site.
Upon completion, the stadium will be able to seat 23,000. Currently, 12,000 seats have been built with an additional 3,000 seats being constructed to complete seating for phase one.
The stadium is certified to meet the requirements of international sporting authorities including: International Association of Athletic Federations (IAAF), the world governing body of track and field; International Olympic Committee (IOC); and the official source for Olympic games and data and Fédération Internationale de Football (FIFA), the international governing body of football. The stadium will also have the capacity to accommodate other major events such as concerts.
Director of Sports Tourism in the Ministry of Tourism, Tyrone Sawyer said the stadium represents another opportunity for the tourism industry.
"The stadium would boost the economy because it would give us an opportunity, with our hotel partners, to host a variety of events," said Mr Sawyer. "From a sports tourism perspective, our goal is to stimulate sporting events that would bring people into The Bahamas; this stadium would accomplish that goal."
Mr Iram Lewis said the stadium will feature the latest in technology with fibre optics being installed for state-of-the-art-broadcast transmission. The stadium will also have wheel-chair accessibility, a sprinkler system, rainwater catchment system, parking facilities for approximately 2500 vehicles and a dedicated lane off the main road, which leads into the complex.
Mr Iram said the expected date of completion is June 2011. "Up to now, we are on schedule and anticipate that we will be able to turn the stadium over to the Government in June of next year.
"We're hoping that perhaps, the stadium can be used as the site to stage celebrations for the next Independence Day," he added.