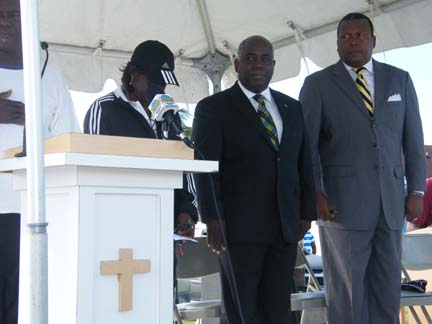 REMARKS
BY THE HON. PHILIP E. DAVIS, MP
DEPUTY PRIME MINISTER AND MINISTER OF WORKS & URBAN DEVELOPMENT
AT THE
FIRST MAJORITY RULE DAY CELEBRATIONS
IN ANDROS
FRIDAY, 10TH JANUARY 2014
9:00 A.M.
Good Morning!
To my distinguished ladies and gentlemen….
Happy Majority Rule Day!
It is good to be in the heartland of the Bahamas – in the rich communities of Andros where great and noble Bahamians reside.
It is an even more humbling experience for me to be here today because it is the first Majority Rule Day, an historic victory that was foretold by your very own Rev. Euthal Rodgers of Deep Creek who told Lynden Pindling just before the January 10th, 1967 election that victory was at hand.
He cited the Book of Exodus, chapter 12 that said;
….the Lord would deliver the children of Israel from bondage in Egypt on the tenth day of the first month.
I believe by divine providence, as Christians around the world moved into the season of Epiphany, so did we as a nation see a new beginning for our people.
On January 10th 1967, a great movement began to echo throughout our country – a loud call for Change.
A Change that began in 1953 with the birth of a movement that began to prepare our people for a new day in our Bahamas.
A Change which was felt in the 1958 General Strike, when taxi drivers demanded their fair share of opportunity.
The Change that was felt in 1962 when women all across the Bahamas were given the chance to vote for the first time in their lives.
This day we celebrate today began the breaking of social shackles that limited the movement and the future of our people.
And, as men and women of that time joined forces to change the Bahamas forever, January 10th, 1967 delivered the promise to our people – that all men are created equal under our Creator God.
Andros,
I've joined you today because you were among the first to Believe!
You were among the first of all our great Family Islands to sign onto the movement that led to the change in the destiny of our countrymen and woman.
You were among the first that led the nation into the fulfillment of the promise of equality and justice for all.
You were among the first to stand fearlessly against the brazen acts of injustice that for years had become commonplace in our country.
And you were the first to send to Parliament two great Voices of Freedom – Clarence Bain and Cyril Stevenson – part of the 'Magnificent Six'– following the general election of 1956.
Therefore, as we mark this day – and embellish it through these celebrations – let us pave the way and inspire the next generation to build a brighter, more prosperous and peaceful Bahamas.
Let us renew the call first envisioned by the men and women who have gone on before us…
Let us renew the dream laid down by our founding fathers – who in 1953 delivered a Platform to the nation to build this land we call home.
On this day let us all recommit ourselves to providing higher standard through education.
Let us all recommit ourselves to the promise to provide better standards for hardworking farmers, fishermen, civil servants, taxi drivers, straw vendors, great artisans of craft, builders, and educators all across our nation.
As we mark this Day of Freedom,….
Let us remind young people everywhere that our march continues….
Let us remind the youth that it began long before we demanded "Equal Pay for Equal Work" in 1942.
Let us remind young people – that it began long before a time when women spearheaded the fight for the advancement of social justice and gender equality through the local suffragette movement in 1949…
It began long before a time when young Bahamians lacked access to a quality Education.
It began long before the great march toward Majority Rule, which launched a movement for our people to believe in themselves.
And it began long before January 10th, 1967, when Bahamians everywhere, of every race, colour and creed, saw the vision that the time had come: "To wipe away the tears from every eye".
This is our story.
This is what we celebrate.
This is what we must never forget.
And so…..
As we march on Bahamas…
….LET US march to new heights and boldly break down barriers that divided us all…
– let us triumphantly march this country forward!
Let us with Faith in our heart and unshaken by the road set before us… move forward despite odds stacked against us….
Let us move Forward knowing that this is our time to carry on the vision to build a brighter Bahamas –…
….one that will be enjoyed for generations to come….
Let Us Move Forward to build a Bahamas that will become a jewel of the Caribbean and an envy of the world!
Happy Majority Rule Day Bahamas!
Thank You Andros…
And may God Bless Us All….