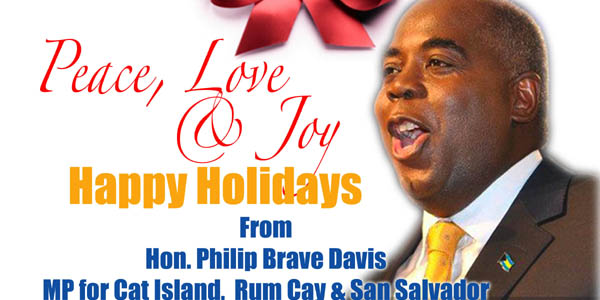 Holiday Greetings
By The Hon. Philip Brave Davis M.P.
Member of Parliament for Cat Island, Rum Cay and San Salvador
My fellow Bahamians,
In the spirit of this Holy Season I greet you.
Christmas is a time when we all come together as a nation, with hands and hearts joined to celebrate the birth of Our Great King.
It is in this time of togetherness that we reflect on the past year and hope to usher in a new year with all the joys and benefits of a brighter tomorrow.
It is in that spirit that I call on each and every one of us in this blessed Yuletide Season to dedicate our lives to lending aid and comfort to our weaker brothers and sisters in our communities.
Let us forget the lines of division that separate us as a people and let us reach deep to assist those in our surrounding communities that are in need of our help.
Let us together lend ourselves to the promise of building a brighter and more peaceful nation.
For together there is no obstacle too great, no challenge too difficult, no distance too far — together we are an unbeatable force.
To the loving people of Cat Island, Rum Cay and San Salvador – I want to send my warmest greetings at this special time.
I renew my commitment to the advancement of these wonderful islands.
I sincerely offer my special thanks to the staff at the Ministry of Works and Urban Development and affiliate departments which I serve.
Let us in our Christian Charity sound the chorus of Great Joy that has come to us…..
– O come, Desire of the nations, bind
– in one the hearts of all mankind;
– bid every strife and quarrel cease
– and fill the world with heaven's peace….
From my house to yours, I pray that you enjoy a blessed holiday….filled with every favour into the New Year.
My God bless the Commonwealth of the Bahamas.