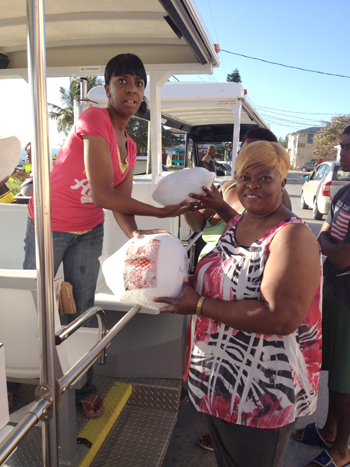 BIMINI, BAHAMAS – According to the lyrics of The Christmas Song, a turkey and some mistletoe help to make the season bright. They may not have mistletoe, however the people of Bimini will certainly have a brighter Christmas, thanks to a donation of turkeys by Resorts World Bimini (RWB) to every household on the twin islands. The Resort delivered 600 turkeys to grateful Biminites to help them prepare for one of the most anticipated events of the holiday season – Christmas dinner.
The donations are part of the RWB's commitment to partnering with the community in its role as a good corporate "Resorts World Bimini extends best wishes of the holiday season and beyond to the people of Bimini", said RWB President Dana Leibovitz. "We were pleased to able to provide Biminites with some holiday cheer and goodwill. Presenting gifts and Christmas dinner is a pleasure and honor for RWB and we thank the people of Bimini for allowing us to be a part of their holiday celebrations. We look forward to a happy, prosperous New Year for all."
One week earlier, RWB teamed up with the Ministry of Tourism to play Santa Claus, donating toys to the island's children during a Christmas Festival which brought together the entire community. The Resort outlaid some $20,000 for the goodwill gestures.