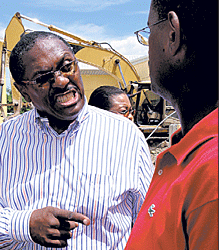 Statement
22 May 2011
When will the Prime Minister Hubert Ingraham and his Minister of National Security admit to the Bahamian people their abject failure in dealing with crime? The fear of crime is through the roof in this country. It is frightening; it is unbelievable that in our capital city, on a blessed Sunday morning, in full daylight and with tourists in the town, two men robbed the John Bull Store with guns drawn and made good their escape. Surely, this is cogent evidence of a colossal failure of will and tactics on the part of the government. The government cannot even protect its own capital city from robbers, while marketing the Bahamas as a safe destination for tourists.
We demand answers to the burning questions which the public has on crime. Where is the action plan to fight crime? We believe that the FNM has none.
It was Oliver Cromwell who said "In the name of God go now!"  We repeat that expression for the Free National Movement, Hubert Ingraham and Tommy Turnquest.
End