Urban Renewal is changing lives….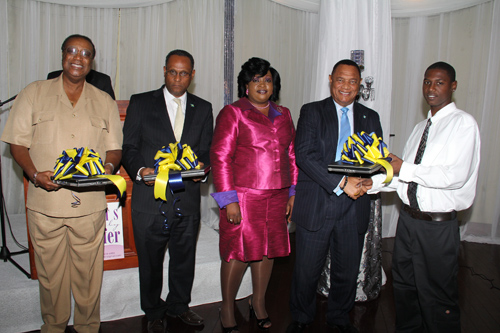 FREEPORT, Bahamas – Prime Minister the Rt Hon. Perry  Christie, was in Freeport, Grand Bahama, Sept. 16, for the official launch of Urban Renewal's G.E.D. Programme.
Urban Renewal 2.0 Grand Bahama office, headed by Deputy Director Mrs. Michelle Reckley has teamed  with Terreve College in this new initiative.
The G.E.D. which is often called the GEHSED (General Education High School Equivalency Diploma) is designed for those students and individuals who did not graduate from high school or did not achieve or obtain their high school diploma.
The programme is planned for one year and three months and students will be offered courses in Computers, English, Maths, Biology, History and Life Management Skills.
All students must maintain a minimum of a 2.0 grade point average in each subject and upon completion of the programme will receive their diploma with the college's seal and pertinent signatures.
Prime Minister Christie, the brainchild behind the Urban Renewal Programme said he fully endorses the programme and any such initiatives which give Bahamians a second chance at obtaining success.
Before a large audience assembled at the Grand Bahama Yacht Club on Monday, the Prime Minister told the 20 participants in the programme and the many supporters present that it was a second chance opportunity that enabled him to achieve success, after being kicked out of high school.
"Let me tell you about me," he told the audience. "I made my mommy and daddy happy, happy, happy, when I passed for Government High School. Students from all over The Bahamas had to take an exam and those who excelled were admitted to the school.
"After two years in the school I was put out, fourteen years of age, and the judgment was I could not learn.  I went home that day and saw my mother and father with tears in their eyes, ashamed because in The Bahamas they had seen their oldest child expelled from school because quote on quote, he was dumb.
"I had to go back to the school I had parted from and I remember walking into the assembly when the children were saying, oh he got put out of school. I could never forget the shame, the disgrace," the Prime Minister recalled.
Continuing, he told the students and guests assembled how a popular teacher named Donald Davis came and told his parents that mistakes were made about their child and that he could learn.
The Prime Minister also recalled his days as an athlete and how he also used that to show fellow students his worth and his ability to be a team player, on the relay squad. He then went on to become a triple jumper and recalled building a pit in their yard to practice.
Mr. Christie remembered watching a number of persons jump, who had been selected for the Bahamas national squad, including popular sportsman Keith Parker and felt that he was better than them.
He said that despite the squad being selected, Tommy Robinson and Lester Byrd, a former Antigua Prime Minister (then a student) told Paul Adderley who was President of the Bahamas Amateur Athletic Association, at the time, that Christie could beat those fellows who were selected.
"So they had a special jump-off for me and I qualified and they put me on the team. I became the second Bahamian to win a medal in international competition. I didn't give up, I didn't give in," he stated.
The nation's leader also recalled back then going to night school, and his desire to be someone special and to engage himself with individuals who had the same ambition in life.
He recalled his time at night school and the competition that existed between him and his sister, who was taking O' Levels at Government High School.
Mr. Christie said he passed four or five O' Levels on that one occasion, and the man who was headmaster at the time, H.M. Davies, saw the results that he passed from night school, and said he should not have been put out of school and would you like to come back into school?
He also touched on his decision to study in London and how he entered the debating competition at the university and won.
The Prime Minister said he showed his parents that he was never going to give up and they watched him become an attorney, and then being elected to the House of Assembly over and over from 1977. Unfortunately, he said, his parents did not live to see him become Prime Minister.
He told those assembled to look at this boy who was considered a failure, who had to start over three years after the people he went to school with.
Turning to the students assembled, Mr. Christie said, "I am telling you this story because in your own life you have to decide right now, I gat it in me."
Continuing, he told his audience "because I am who I am, I believe in the redemptive power of second chance. There are thousands of Bahamians who did not have the opportunity, men and women, but who are brilliant and our job is to be able to inspire them to get up off the ground if they have been knocked down and to know that the test is not how many time you get knock down. The test is how many times you get back up."
He said that if one looks at the history of our country and that of Grand Bahama and the other Islands, one would see "what I have described year after year as the indomitable spirit of the Bahamian, meaning that I am not going to allow my circumstances to cause me to get on the ground and grovel. I am going to get up."
Mr. Christie told the students that God has given them the same ability that He gave him, and that he was knocked down in the same way as they were.
He told the gathering that Urban Renewal can help promote a better way for living and that he got the Police involved so that they can go with social workers and others into the various trouble spots and try and bring relief to those persons.
The Prime Minister went on to inform of two special projects designed to assist mothers whose children need special care, which his government will soon implement.
He said every child in The Bahamas has a right to participate in the resources of the country.
"Those who cannot speak for themselves and have parents who cannot speak for them, the state, and I represent the state, must place itself in a position to do for them what they cannot do for themselves."