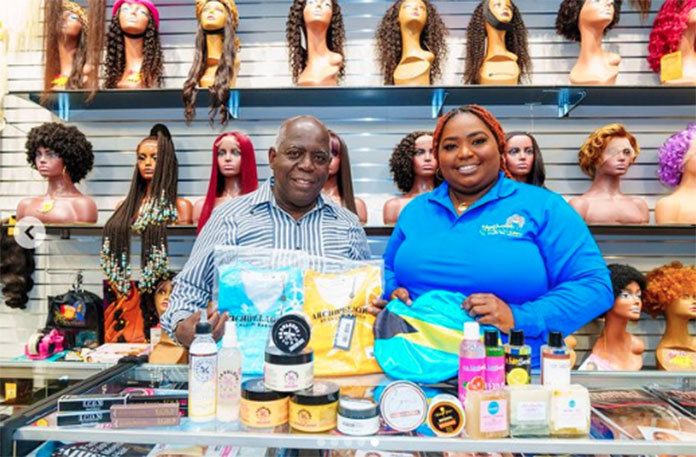 PM DAVIS: I just had an amazing time visiting Toronto, Canada for the opening of The Bahamas Consulate Office, and I wanted to share a bit of my experience with you all. During my time in Toronto, I had the pleasure of visiting a local business owned by a fellow Bahamian, Zhorrah Grant, called The REAL Hair Granted Beauty Supply Inc.
Hair Granted Beauty Supply is truly an inspiration as they sell a variety of Bahamian-made brands. It was great to see familiar names like My Kitty Secret, Braid Glam, Envius Edge Control, Beauty by Bekuh, Fabulous Ronnie, I.C.O.N., Bask and Bloom, and Kellure being represented in a foreign land. Our top-selling Bahamian-owned product, Beauty by Bekuh, also caught my eye.
Zhorrah, originally from Nassau, has been living in Canada for 16 years and has made a name for herself in the beauty industry. She's passionate about hair, makeup, nails, and more, and has used that passion to create a thriving business. It's truly heartwarming to see someone from our beautiful Bahamas doing so well in another country.
Zhorrah's journey as an entrepreneur is inspiring, and I enjoyed learning more about her story. She saw a need for Black-owned beauty supply stores in the Greater Toronto Area and decided to take a leap of faith to open her own store. Today, she owns the largest Black-owned beauty supply store in the GTA and is looking forward to expanding her brand across Canada and back home to the Bahamas.
I'm incredibly proud of Zhorrah and the success of Hair Granted Beauty Supply. It's always an honor to see Bahamians making their mark on the world stage, and I can't wait to see what the future holds for her and the store.
To all the aspiring entrepreneurs out there, Zhorrah's advice is to plan, plan, plan, and never underestimate the power of writing down your ideas and dreams. Let's continue to support and uplift each other as we build our beautiful Bahamas together.