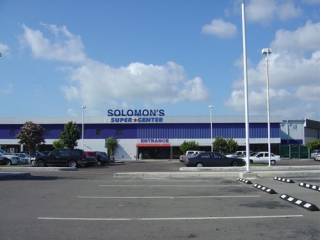 NASSAU| Police in the capital are aggressively investigating the country's latest Homicide, which has resulted in the death of two adult males' ages 21 and 27. The incident reportedly occurred on Saturday April 22nd 2023.
According to information received, sometime around 2:24.a.m. officers attached to the Mobile Division conducted a routine traffic stop at the junction of Marathon and Robinson Road. While
doing so, sounds of gunshots emanated from the Solomon's Super Center parking lot. As a result the officers responded, where they observed several vehicles within the area.
The officers then pursued occupants of a dark colored Japanese vehicle travelling east along Solomon's parking lot, who successfully evaded them. After which, the officers returned to the scene where they observed a parked silver Nissan Skyline LP# unknown, disc (AV3992). Upon making further examinations of the vehicle, the lifeless bodies of two males with gunshot injuries were discovered on the inside.
EMS was contacted and responded. Checks of the victims were made, where they found no signs of life.
Police are appealing to members of the public who may have any information as it pertains to this incident or any other matter, to contact the Criminal Investigations Department at 502-9991-3 or 919.