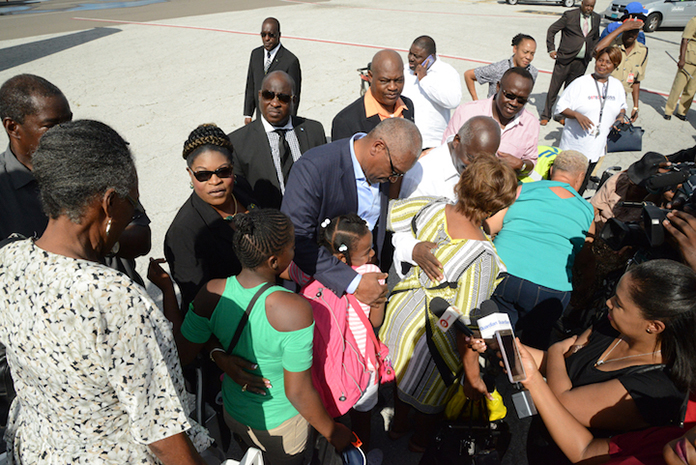 NASSAU, The Bahamas – Prime Minister, Dr. the Hon. Hubert A. Minnis and a contingent of senior government officials Wednesday morning welcomed the first set of evacuees from the Southern Bahamas ahead of the expected landfall of Hurricane Irma.
The Prime Minister, was also accompanied on the tarmac of the Domestic Section of the Lynden Pinding International Airport by Opposition Leader, the Hon. Philip "Brave" Davis.
The initial evacuees were from Inagua. The Bahamasair flight transporting the evacuees touched down at LPIA at 9:30am Wednesday, September 6, 2017. Flights took place throughout the day.
On its current path, Hurricane Irma, a dangerous Category 5 storm with sustained winds of approximately 185 miles per hour, poses a direct threat to the islands of Mayaguana, Inagua, Crooked Island, Acklins, Long Cay and Ragged Island.
Disaster Management and Department of Meteorology officials say the wind speed, rain and expected storm surge associated with a Hurricane of Irma's stature could make Irma "a potentially catastrophic hurricane."
The evacuations, which began early Wednesday morning, were part of a pledge made Tuesday by the Minnis Administration to begin evacuating Bahamians and residents of the southern-most islands into New Providence early Wednesday ahead of the potential impact from the storm.
"Most would have volunteered to come out," Prime Minister Minnis said of the evacuees from Inagua. "We have organized various flights to evacuate individuals from the southern islands including Ragged Island; we have had one or two hiccups initially, however, we were able to correct those."
Prime Minnis applauded Mr. Davis for his assistance in the "national" effort.
"We got great assistance also from the Leader of the Opposition, so I want to thank him for offering his support because this is not a political event, this is a national event, and it shows great maturity when both political parties can get together for one common purpose and that is to save the lives of our people," Prime Minister Minnis added.
Quite a number of buses were awaiting the arrivals in order to "mobilize individuals from here to the various shelters."
The initial group was housed at the New Providence Community Church, Blake Road. Team leaders and volunteers were already on hand to welcome them. The Kendal G.L. Isaacs Gymnasium and Loyola Hall will also be used to house evacuees from the southern Bahamas.
"These Centres will be adequately staffed by various personnel and will be secured by the Royal Bahamas Police Force," Prime Minister Minnis said.
Prime Minister Minnis said Administration officials are "quite confident" of the plans that have been made to mitigate any impacts that may be associated with the approaching storm.
"NEMA (the National Emergency Management Agency) is doing an excellent job," Prime Minister Minnis said. "The agencies have responded very well. They have been working steadily on crunching the numbers to ensure that each and every individual throughout our Family Islands are accommodated, not only in terms of air transportation, but housing accommodations as well.
"This is a teaching experience for everybody, including the agencies, because air evacuations have never been done before and I think all of us can learn something from this experience. I am certain that with God's help and blessings we will get over this and as soon as possible — after assessment — we can dispatch individuals back to their respective areas," Prime Minister Minnis added.