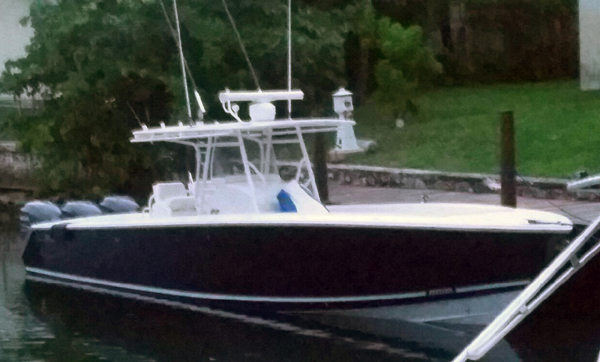 Coral Harbour Base, 6 Sept 2015 (RBDF): While on routine patrol in the area of the northern Bimini chain, the Royal Bahamas Defence Force patrol craft P-128 coxswained by Petty Officer Themo Berkley, apprehended a 38-foot Jupiter with five American males on board for illegally fishing in The Bahamas. The arrest was made approximately 3 miles southwest of the Great Isaacs Light around 3 p.m. on Sat.
Shortly after intercepting the vessel, P-128's boarding team discovered that the occupants of the sport fishing vessel had not cleared Bahamas Customs or Immigration and were illegally engaged in fishing using scuba apparatus. The occupants were also found with an undetermined amount of fishery resources on board their vessel without a fishing permit.
The five Americans were subsequently arrested and escorted to Grand Bahama by P-128 where they were handed over to Bahamas Customs, Immigration and Police authorities.
The Royal Bahamas Defence Force remains committed to "Guarding Our Heritage" and the sovereignty of the Commonwealth of the Bahamas.