Police are working hard to keep us safe!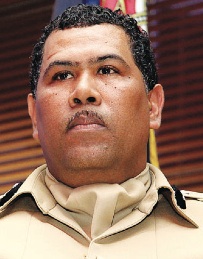 Nassau, Bahamas — At a press conference on Wednesday evening at Police Headquarters, Police Commissioner Ellison Greenslade announced that the arrest of two men after an attempted armed robbery has helped police solve a string of 13 armed robberies.
On Monday 15th June 2015, sometime after 9:00pm alert officers from the Mobile Division saturation patrol, arrested two men in the Kennedy Subdivision area and recovered a firearm following an armed robbery in Garden Hills.
Police launched an intense investigation that resulted in 13 recent armed robberies being solved.
Additionally, 5 vehicles and several items taken during these armed robberies were recovered.
Five additional suspects have also being arrested in connection with these robberies.
Commissioner Greenslade credits the success of this major breakthrough to excellent teamwork; intelligence led policing, precise execution of the RBPF policing plan and support from members of the public.