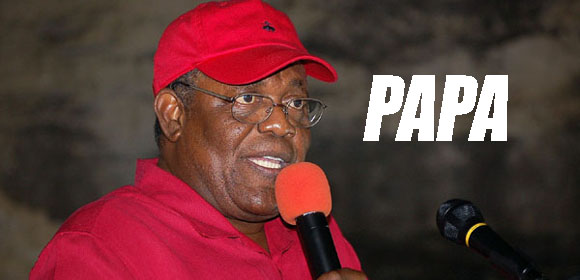 PRIME MINISTER: Good Afternoon, Ladies and Gentlemen of the press.  I thank you for coming.  And I welcome Bahamians and others around the country and overseas who are listening through various media.
I wish to comment upon some of the significant elements of my recent official visit to China at the invitation of the Government of the People's Republic.  During the visit, I discussed a broad range of issues with Government officials, including Baha Mar and other bilateral and multilateral issues.
My visit to Hong Kong just ahead of my visit to the mainland of the People's Republic of China provided opportunities for me and members of my delegation to meet with a number of private sector individuals and groups involved in tourism sector, financial services, and maritime services.
It was a considerable pleasure to attend the official opening of a Bahamas Maritime Authority Office in Hong Kong, our first such presence in the Asian and Pacific regions.  The Office will serve as a springboard to increase the Bahamian ship registry while promoting and attracting foreign investment in other areas.
Potential investors and various officials of the Hong Kong Special Administrative Sector were provided with information on our ongoing ambitious infrastructural investment programme and on developments in our tourism plant which will help to secure our economic recovery and make The Bahamas a more competitive and attractive investment destination.
Information was provided on Government's ongoing reform and modernization efforts to rationalize and simplify procedures and regulations in order to make doing business in The Bahamas easier for Bahamians and foreign investors.
In particular I had the opportunity to hold discussions with the leaders of Hutchison Whampoa on my Government's intensive medium- to long-term strategies to reinvigorate Grand Bahama.  In seeking to improve Grand Bahama's competitiveness in a number of strategic areas, we intend to build on our success in attracting to The Bahamas one of the region's largest transshipment centres and a major ship repair facility.
In Beijing and Shanghai, I reaffirmed with representatives of the Chinese Government, the strong ties and mutual interests shared by the Bahamian and Chinese people in areas ranging from economic development to education to climate change.   In the spirit of friendship and reciprocity, I extended an invitation for Chinese Prime Minister Wen Jiabao to visit The Bahamas.
I was pleased for the opportunity to meet with a number of Chinese entrepreneurs in the telecommunications, computer and construction sector during my visit and look forward to future collaboration with some of these companies to improve services and infrastructure in our country.
As a result of our visit, The Bahamas may benefit from technical cooperation with China in a number of areas including urban planning, sustainable development, green technology, tele-medicine, distance learning possibilities for the Family Islands and cutting-edge communications technologies, among other areas.
I was happy also to meet with some of the 20 Bahamians in China pursuing tertiary studies in various disciplines.  Bahamians would be proud to know that two of these students served as language interpreters for remarks given by me at a reception hosted by The Bahamas Embassy in Beijing and at the presentation of Junkanoo pieces to the Chinese Cultural Museum.
As a result of candid discussions with the Chinese Export Import Bank, the China State Construction Company, and following upon discussions between those companies and their partner, Baha Mar, I can advise that consensus has been reached on a number of significant issues related to the proposed Baha Mar Cable Beach Development.
First, the construction value of works to be subcontracted to Bahamian contractors and subcontractors has been doubled from $200 million to $400 million. Bahamians will also work on elements of the Core Project.
This will be the largest award of contracts to Bahamian contractors on a single project.  Contracts will be awarded to large, medium, small scale and individual contractors.  This is in keeping with my Government's commitment to deepening and broadening economic opportunities for all Bahamians.
Second, China State Construction and Baha Mar have agreed to an extensive and comprehensive training and retraining programme.
Baha Mar has also agreed to establish a Training and Service Academy which will provide extensive training prior to the opening of the various hotels and other amenities.  The Academy will be permanent, offering ongoing training opportunities for employees and prospective employees.
Specifically Baha Mar has advised as follows:
The Academy in conjunction with our Human Resources Departments and Baha Mar's  hotel/casino brand partners will put in place the following training programs thru the Academy:
•    Pre opening (12-24 months before opening): The hotel and casino brands will begin to select high performance individuals that will be placed within their hotel system throughout the world. These individuals will be placed in job shadowing programs, on the job training programs, and hotel specific systems training programs. Baha Mar will also be hiring executive staff and training individuals who will staff the anticipated job fairs and will be conducting employment interviews.
•    Pre opening (0-12 months before opening): The Hiring and Job Fairs will begin with specific employment targets required to enable the project to meet its training and operational ramp up needs. Baha Mar anticipates hiring and training approx 7000 employees during this period. It is also expected that a number of the Bahamian construction workers in a variety of trades will be interested in filling ongoing maintenance positions since they will be very familiar with the projects mechanical, electrical and plumbing infrastructure.
•    Post Opening and Stabilized Operation: Baha Mar will continue to provide training for new employees and for continuing training for existing employees.
Such training will help to empower the Bahamian people by advancing wealth-creation, providing extensive opportunities for professionals and securing jobs and livelihoods.  Such broad agreement will pave the way for this large-scale project which will assist our economic recovery.
A third matter of interest to the Government is not yet as clearly agreed, that is the phased entry into operation of all of the new hotel rooms and the continued operation of the Wyndham Hotel immediately following upon the completion of all of the new hotels.
Before concluding my opening remarks, I wish to say a number of things about the continued high level of violent crime.  Even as my Government continues to work to help provide economic security for Bahamians, we are doing likewise to address national security and well-being.
My administration has begun to put in place long-term measures such as the reform of the criminal justice system.  We have begun to seriously address the backlog of cases through the provision of personnel and facilities.
And, we are taking steps to ensure that the perpetrators of violent crime understand that they cannot and will not be allowed to wreak havoc on families and communities.
We have already implemented pilot CCTV monitoring programmes in parts of downtown and other areas.   This is in preparation for a more comprehensive system throughout critical areas in New Providence.  Such a programme is both a crime-prevention tool as well as a monitoring system for repeat offenders.
Still, no matter how much is done by Government, our shared response to an unacceptable level of violence demands that individuals and families, churches, and indeed the larger society work together to combat the criminal threats to our national security and Commonwealth.