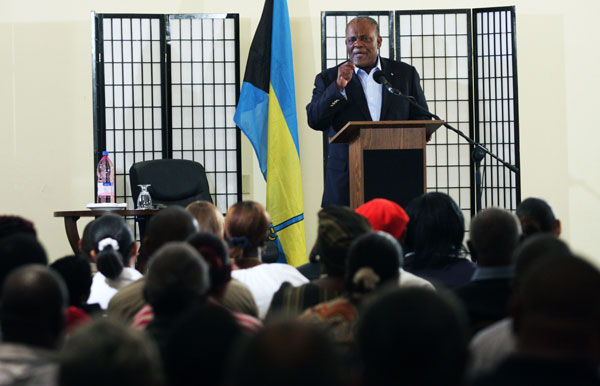 NASSAU, The Bahamas – Prime Minister the Rt Hon. Hubert Ingraham announced that a consensus has been reached on a number of significant issues related to the proposed Baha Mar Cable Beach Development, following talks with the principals during his recent visit to the People's Republic of China.
During a press conference held Sunday, November 14, 2010 at the British Colonial Hilton, the Prime Minister commented on some of the significant elements of his visit, regarding bilateral and multilateral issues.
"As a result of candid discussions with the Chinese Export Bank, the China State Construction Company, and following upon discussions between those companies and their partner, Baha Mar, I can advise that consensus has been reached on a number of significant issues related to the proposed Baha Mar Cable Beach Development," he said.
Firstly, the construction value of works to be subcontracted to Bahamian contractors and subcontractors has been doubled from $200 to $400 million, the Prime Minister disclosed, adding that Bahamians will also work on elements of the core project.
"This will be the largest award of contracts to Bahamian contractors on a single project. Contracts will be awarded to large, medium, small scale and individual contractors. This is in keeping with my Government's commitment to deepening and broadening economic opportunities for all Bahamians," he said.
Secondly, China State Construction and Baha Mar have agreed to an extensive and comprehensive training and retraining programme.
In this vein, Baha Mar has agreed to establish a training and service academy, which will provide extensive training prior to the opening of the various hotels and other amenities. The academy will be permanent, offering ongoing graining opportunities for employees and prospective employees.
The academy in conjunction with Human Resources Departments and Baha Mar's hotel/casino brand partners will put in place training programmes through the academy up to 24 months before opening.
Approximately 7,000 employees will be hired and trained by Baha Mar 12 months before opening. And, it is expected that a number of the Bahamian construction workers in a variety of trades will be interested in filling ongoing maintenance positions, as they will be familiar with the projects mechanical, electrical and plumbing infrastructure.
"Such training will help to empower the Bahamian people by advancing wealth-creation, providing extensive opportunities for professionals and securing jobs and livelihoods. Such broad agreement will pave the way for this large-scale project which will assist our economic recover," the Prime Minister said.
HE said however that a third matter of interest to the Government which is not yet clearly agreed to is the phased entry into operation of all the new hotel rooms and the continued operation of the Wyndham Hotel, immediately following upon the completion of all the new hotels.
The Prime Minister said that Baha Mar and the China Eximbank advised him that Hyatt would invest $40 million into the development. Rosewood Hotels and Resorts and Morgans Hotel Group will invest $10 million each. Also, CSCEC will invest $150 million into Baha Mar.
According to the Prime Minister, approval for the project will likely be approved by the end of November; contracts for Bahamian firms to be issued in December and work to begin in January 2011.
Debate on the request for work permits for more than 8,000 Chinese workers for the project is set to take place November 17 – 18, 2010 in the House of Assembly.