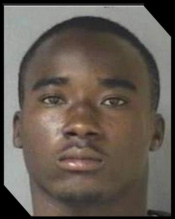 Nassau, Bahamas – Police have issued a wanted bulletin for 23 – year old Cordero Johnson who is wanted in connection with a shooting incident that occurred on Tuesday 3rd March 2015.
According to reports, shortly before 9:00am, a man was traveling on Faith Avenue South, driving a 2006 red Dodge Durango vehicle, when a male known to him accompanied by another male stopped him and asked him for a ride.
Both males got into the vehicle and one of the males placed a firearm to the back of his head and told him not to stop. As a result victim jumped out of the vehicle and was shot in the right arm.
The two men then sped off in the victim's vehicle. The victim was transported to Hospital where he remain in stable condition.
A short while later police found the stolen vehicle on fire on Holiday Drive, South Beach. Officers from the Fire Department attended the scene and extinguished the fire.