Appointment of New Senator — Miss Robyn-Dawn Lynes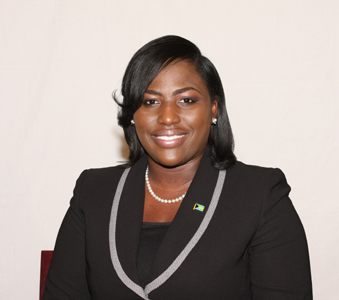 Prime Minister the Rt. Hon. Perry G. Christie announced Wednesday that he has advised Her Excellency Governor-General Dame Marguerite Pindling to appoint Miss Robyn-Dawn Lynes to fill the vacancy in the Senate.
In making the announcement of the new Senator, the Prime Minister said: "I am delighted that Robin has accepted my invitation to join our dynamic team in the Senate. She is a new generation thinker and activist who has a brilliant career in public life ahead of her. She is a highly intelligent, unselfishly motivated, young woman of deeply-held Christian beliefs who has already demonstrated an innovative, hands-on approach to helping at-risk youth in our Over-the-Hill communities. In addition, Robin has a first-class legal mind and outstanding communication skills. These talents will no doubt be of great service to her and the country as she attends to her legislative duties in the Senate."
Miss Lynes is a member of the Bahamas Bar and a partner in the law practice of Kingdom Law Advocates. She graduated with a First Class honours LL.B degree from the University of Buckingham in England in 2006, following which she graduated from the BPP College of Professional Studies in London. She was called to the English Bar as a member of the Honourable Society of Lincoln's Inn in November 2008, and then to the Bahamas Bar in June 2009. She also later earned her LL.M degree in law from the Chicago-Kent College of Law.
A product of the public school system in The Bahamas, Miss Lynes earlier attended C.R. Walker Secondary School where she excelled both academically and athletically. She was selected an Outstanding Student in Bahamian High Schools and Colleges for three consecutive years. Miss Lynes subsequently enrolled in the College of The Bahamas where she was consistently on the Dean's Honours List. She graduated in 2003 after which she proceeded to England for her law studies.
In addition to her legal career, Miss Lynes is active in church and community work. She is Youth Minister with the Voice of the Watchman Ministries; Founder and President of Core of Hope Youth Resource Centre, a social outreach organization for underprivileged young people in Over-the-Hill communities; and a member of the National Committee for Families and Children.
Miss Lynes is also a member of the Board of Directors of Nassau Flight Services Limited and a former member of the Air Transport Advisory Board. She also currently serves as a National Vice-Chairperson of the Progressive Liberal Party.