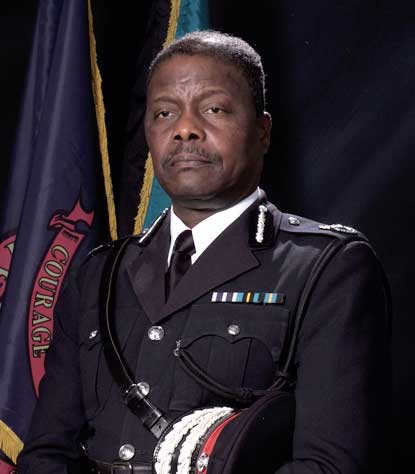 Reginald Ferguson, Commissioner of Police .
Nassau, Bahamas: After serving for less then one year as Commissioner of Police, Reginald Ferguson is reportly about to leave the Royal Bahamas Police Force. Sources close to the RBPF have confirmed that Ferguson will oversee the transition at the top of the police force in the next coming weeks. Bahamas Press reported the shakeup on July 1 just after the announcement of the Cabinet Shuffle.
The source noted that Prime Minister Hubert Ingraham is set to remove Commissioner of Police Reginald Ferguson and will cut the trainings of Ellison Greenslade and Marvin Dames to take up top posts on the RBPF.
The source confirmed that Prime Minister is not satisfied with the results of a recent investigations within the Force and therefore struck down a request for an extension of stay on the Force by Commissioner Ferguson. With drug dealers walking out of the central police custody, with no one accounting for their escape, sources confirmed the Prime Minister cussed like a sailor upon hearing the news.
To date no one in the RBPF has yet explained why an officer of the force was put on leave after discovering the dead body of fashion designer Harl Taylor. Reginald Ferguson will retire from the force at the end of the year.