What in da hell is dis?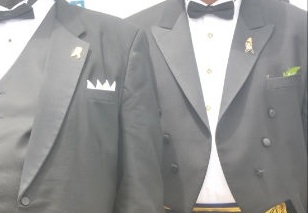 Nassau Bahamas — Saturday night put a brand new flavor in the juice of Prince Hall Lodge. Once again, the once historic and now disgraced, Royal Eagle Lodge put on an "all you can drink/all you can sex" orgy party and had jungaless and whorey mongers seeking refuge on the lodge grounds.
Da tiefin' Worshipful Master, Uriel "Rabbie" Johnson was in his element of happiness thinking about all he could tief while the Grand Lodge Officers drank themselves half to death and became uncontrollable. While the startling gray-haired officer chased the sisters and danced suggestively with them, it was more noticeable that the Lord of Anejo and Coke was staggering up and down Blue Hill Rd, where the lodge is located, speaking of his prowess in bed and Junkanoo. At one point this British-accented fellow fell flat on his back in the road in front of the lodge, and then proceeded to pull out his tiny private parts and relieve himself like a fountain of bright yellow apple juice. Only at that point did Da Tief and his Merry Men decide to rein the Drunk Lord in. WHAT IN DA HELL IS DIS??
Later on the Lord of Anejo and Coke drove away drunkenly, shaving the walls of Government House and later crashing into the curb where he rested for a while. Just like what happened earlier in the year at the first "all you can drink" party put on by Da Tief and his Merry Men, brothers and strangers were seen puking on the side of the road and through the surrounding fences – Very un-Masonic behavior.
The event was very crowded but BP was in place, as usual, taking notes and pictures which will be published in our next story in the series on this lodge. After a certain hour, the loose women arrived and the real "party" started in the back of the grounds. Masons from other constitutions were seen running out of the gate in shock at what they were exposed to as Masons and gentlemen.
If the Grand Lodge dared to remain sober at this event, they would have made a clear assessment that these sort of events are the only thing that Da Tief has to offer. Da Tief was beside himself in glee because he was right at home handling the once historic Royal Eagle Lodge, like one of his Coconut Grove, jook-jook, hole-in-da-wall type of clubs similar to the one where he got shot in his guts last year.
There were several near fights at this event but no security was in sight just the steady collection of money from the herds of men coming in to view the loose women and drink all the rum available to them.
BP awaits to see how the reports of this event are going to be handled. Drunk and disorderly Masons, the feeling up of slack women, brothers puking through fences, would be family men laying on their backs in the road is what this event was about. Is this proper Masonic behavior?
We Report! Yinna Decide in December!
So Mote it Be!