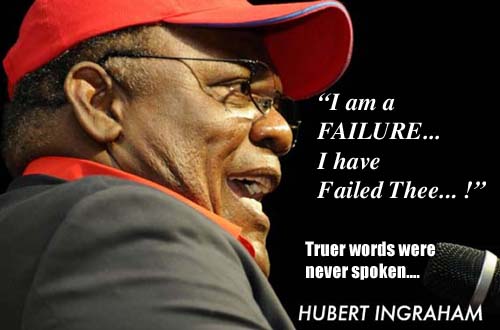 Dear Editor
An amusing letter was recently posted on one of the pro-FNM facebook pages where former Prime Minister Ingraham attempted to sanitize his soiled reputation by denying the criminal act of obstruction of justice when it was alleged that he interfered with a police investigation involving a family member. Ingraham denied he interfered with the police investigation. Any attempt to influence a public officer or interfere with the administration of justice is a criminal offence, it is obstruction of justice, it is malfeasance, it is corrupt and it is rotten.
But there is reason to believe that he would interfere with the police because of his repeated attempts to politicize the police force in addition to the practice of cronyism.
Bahamians recall that one of the first actions taken upon assuming office in 192 was the unceremonious removal of a number of senior police officers, sending them home. The FNM government denied their petition for financial compensation and the PLP had to settle with them upon coming to office in 2002. The same was done again at or around 2009 when then National Security Minister Turnquest blamed the high rate of crime on operational deficiencies with the RBPF. This accusation was used a pretext to again purge the police force and the result was devastating for the country as the murder rate jumped significantly the following year.
Who could forget the former Prime Minister shamelessly instructing police officers to "remember the money" when they voted in the advanced polls in the 1997 general elections. Apparently he timed the payment of a $1,500 lump sum to the police to coincide with the advance poll. It gets worse – in the run up to the 2007 general elections he again stood on a rally platform and shameless bellowed that "you better believe that for every 10 votes cast (by the police), 7 of them are for the F – N – M."
During his last term in office, Ingraham went as far as to tell an opposition PLP Member of Parliament that he was watching him; and did so from his feet. What Prime Minister uses the security arm of the government to launch a political witch hunt against a political opponent?
The appointment of Reginald Ferguson as Commissioner of Police some believe was pure cronyism.
Ingraham's well documented interference in and politicization of the police force makes it easy to believe that he would interfere in a police investigation. His feeble attempt to sanitize and defend himself is not convincing because of his track record.
Yours etc.;
ALEXANDER LARODA