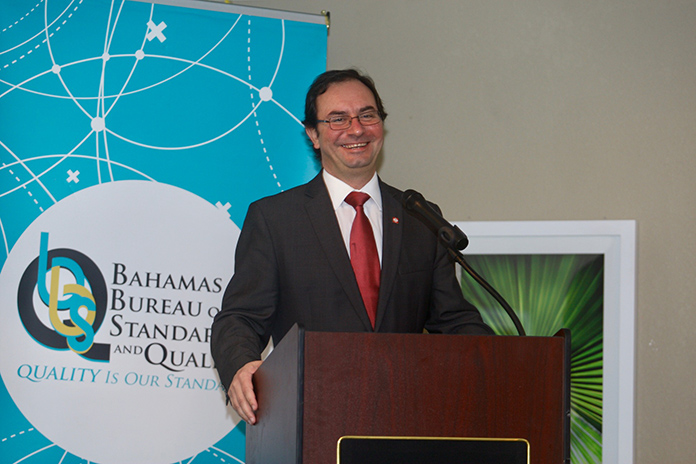 NASSAU, The Bahamas — Secretary General of the International Organization for Standardization (ISO), Mr. Sergio Mujica was in the country on Friday, October 27 for a one-day seminar sponsored by the Bahamas Bureau of Standards and Quality (BBSQ).
Minister of Financial Services, Trade & Industry and Immigration, the Hon. Brent Symonette delivered welcome remarks and said that the government welcomes the concept of standardization and is cognizant of its importance in meeting international compliance.
"We must find ways to diversify our economy and we can only compete effectively if we have standards that are accepted worldwide," said Minister Symonette. "Currently, the Ministry of Financial Services is moving forward with World Trade Organization (WTO) and the Economic Partnership Agreement (EPA) to advance trade."
Also in attendance was Acting Minister of Labour, the Hon. Elsworth Johnson, who delivered brief remarks.
Keynote speaker, Mr. Sergio Mujica, expressed his appreciation of being in the Bahamas and embarked on discussing the important role that standards play in a country. He told attendees that standards affect every facet of society.
"Standards are everywhere and affect every aspect of our daily lives, " said Mr. Mujica. "They are an essential component of the economic and social development of our communities."
Giving an overview of standards and their benefits to several tiers of a society, Mr. Mujica said that standards are beneficial to businesses, consumers, policy makers, small and medium enterprises (SMEs), and industries including tourism and agriculture.
He said that benefits include an increase in customer satisfaction; access to new markets; high degree of acceptance of products and services; environmental sustainability; reduction in costs; and improvement in the quality of tourism and agriculture products.
The International Organization for Standardization is an international standard setting body composed of representatives from various national standards organizations.
The organization was founded on 23 February 1947 and promotes worldwide proprietary, industrial and commercial standards. It is headquartered in Geneva, Switzerland, and as of March 2017 works in 162 countries, covering approximately 97 percent of the world's population.