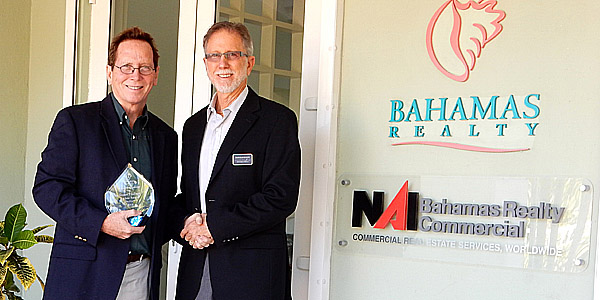 Nassau, Bahamas — Sixteen years after he first walked into Bahamas Realty as a nearly novice agent with two years' experience abroad and more hope than history, Stuart Halbert still can't believe his good fortune. He loves Mondays, thinks Fridays come too soon and as for the weekend, well, that's for working, too.
It's that attitude that has just made Halbert Bahamas Realty's top producer in 2014 for the 7th time, a journey that has taken the industry through thick and thin and been peppered by sea changes in the economy and the profession.
"When the economy took a sudden and dramatic turn for the worst in 2008, Stuart went on, working hard, never giving up," said Larry Roberts, chairman of the real estate company celebrating its 65th year. "But for several years, the returns did not match the energy he expended and what made everyone admire him so much is that he was always there, always ready to show a property, to co-broke a sale, to bring a positive approach. He put in the extra hours and is always highly motivated."
That drive and motivation paid off again in 2014 for Halbert, who is among fewer than 5% worldwide to qualify as a Certified Residential Specialist. Halbert says much of the success is due to advent and growth of MLS, the Multiple Listing Service that permits all participating firms to share information on listings.
"The MLS has changed the way we do business, allowing us to expose our listed properties to a much wider market, accumulate more statistics, provide better information to prospective buyers or sellers, maintain more accurate appraisals, enjoy more co-brokes (sales shared by listing agent or firm and other participating BREA MLS agents)," said Halbert, a director of the Bahamas Real Estate Association for the past six years and a past treasurer.
While the MLS has boosted activity, Halbert suggests other measures he is convinced would substantially open up the industry and provide a flash charge to a housing ownership phenomenon with positive broad and sustained economic benefits.
The first, he believes, is banks releasing their hold on foreclosed properties and, instead, letting industry professionals take the lead. "People wanting to buy a home go to real estate agents, not to banks," says Halbert, calling the hundreds of homes being held by local banks "the 500-pound elephant in the room."
He also believes that an increase in inventory is needed, with a greater number of small scale developments.
"Given that more people are out looking (for homes) now than had been for several years and the name Bahamas is synonymous with a fabulous place to live, I am always surprised that there are not more developments underway," said Halbert, claiming that older estates that are harder to maintain in today's environment along the waterfront would make logical locations for small scale townhome or condo living.
"Barring any international financial crisis, we are on our way to a very good run," says Halbert, who is still singing the praises of living in The Bahamas and working at a company he believes is highly charged and on the cutting edge. But then singing has always been Halbert's style.
Long before he walked into that office that still makes him glad to be alive and in The Bahamas, the Scottish-born winner was the composer, musician and entertainer who penned and sang such favourites as Goombay, Goombay Summer as a member of the Nassauvians and entertained at the historic King and  Knights Club on West Bay Street.
"Sixteen years and still having fun, can't ask for more than that," says Halbert, a twinkle in his eye, a smile on his face and the newest trophy in his hand.