Robbers now walking into HOTELS?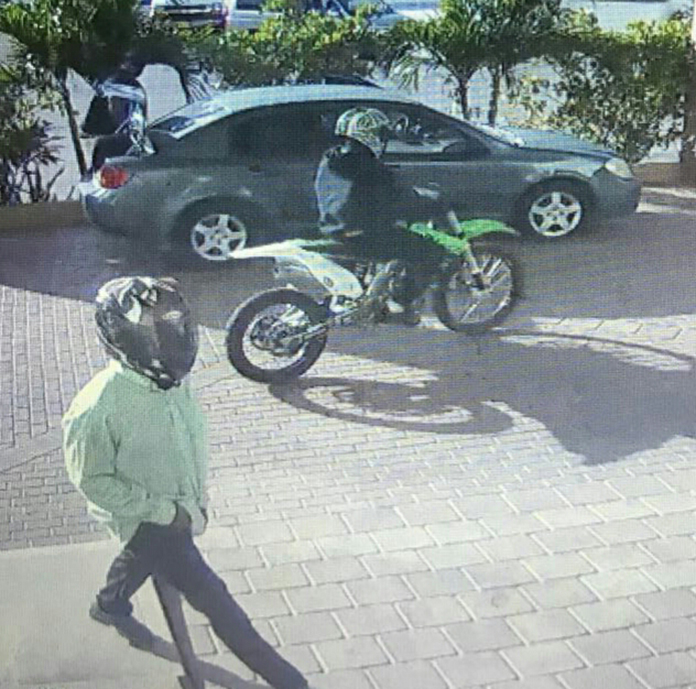 Nassau – If you thought the criminals were not serious these days, then take a look at this. An inside robbery – WE BELIEVE- today at the newly refurbished Marriott Hotel on West Bay Street.
Two armed men rode up to the entrance, walked into the hotel like terrorists in helmets and robbed the hotel clerk of some $15,000 in cash. We believe some employee were in on the heist. Like where was the hotel security?
Now, here is where we at BP make our observations: What was the registered license on the bike? There was none. And this is where it gets serious for us.
All over New Providence lawless motorists are parading on main Bay Street without a damn license on the bike or car – and yet they proceed unimpeded! What is this?
Our system should now know and have a file of every motor vehicle or bike that has not registered and those vehicles should be sought after! Why are they not registered and what is the penalty for not being registered on the renewal date? We ga say this – Dumb people should not be in charge of our systems!
How does a motorbike ride down Bay Street where almost 50 officers are assigned – hold up a whole hotel! Have no license on the bike and everyone carryon like we safe! [Well Jingle Bell – WHAT IS DIS?]
We report yinner decide!