IAAF World Relays comes alive in a new stadium in Nassau Bahamas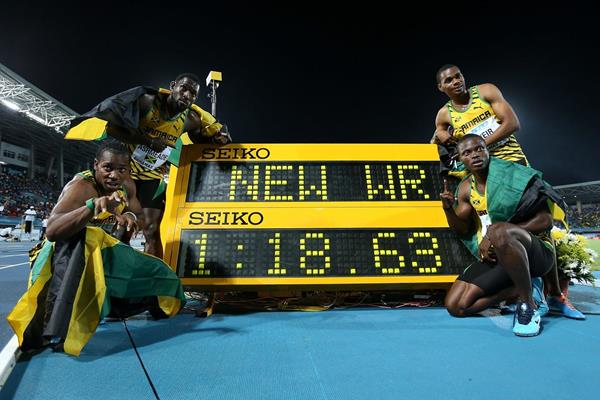 It's a Gold Rush World Event in the Bahamas!
Nassau, Bahamas — Jamaica's men's 4x200m quartet improved the world record* by 0.05 with a run of 1:18.63 at the IAAF World Relays in Nassau, The Bahamas, on Saturday (25).
Nickel Ashmeade, Warren Weir, Jermaine Brown and 2011 world 100m champion Yohan Blake combined to win the first prize of US$50,000 and a world record bonus of US$50,000.
The previous world record of 1:18:68 was set by an all-US quartet in 1994.
In the end the 20-year-old 4x200m world record that had been on the books in the name of the fabled Santa Monica Track Club did indeed fall, but it required some heroics in the form of an unofficial 19-flat anchor leg by Blake from a rolling start.
The Jamaicans were pressed early by a blazing first leg from Antoine Adams of St Kitts and Nevis out in lane eight and as his compatriot Lestrod Roland came down the homestretch he swung his left arm – the one holding the baton – over his head as though to invite the others to come along, which they eventually did.
Jamaica passed the finish line to start the second lap in 39.00, although with a four-turn stagger and starting in lane three, Jamaica had somewhat more than 400m to run at that point. Nevertheless, Brown and Blake completed the second tour of the track in 39.63.
An expected challenge from the US team failed to materialise as their second exchange, from Moscow 2013 200m bronze medallist Curtis Mitchell to Ameer Webb, initially missed and was completed outside the zone.
The US team continued and crossed the line third, unable to overhaul the St Kitts quartet, but following their disqualification third place went to France.
Again there was a rash of national records behind the world record.
St Kitts and Nevis put up a mark of 1:20.51, with Brijesh Lawrence and Allistar Clarke finishing for their quartet.
France, with Christophe Lematire leading off and Fonsat, Bassaw and Romain bringing it home, established a European record of 1:20.66; notably both St. Kitts and Nevis and France ran with the same line ups for the final as they did for the heats.
Barbados (fourth, 1:21.88) and Kenya (fifth, 1:22.35) also set national records.
Earlier, Jamaica were the easy winners of the first heat in 1:20.14, running Rasheed Dwyer, Brown, Jason Livermore and Weir, with France next (1:21.45) and St. Kitts and Nevis (1:21.97) third.
The USA quartet of Maurice Mitchell, Curtis Mitchell, Isaiah Young and Wallace Spearmon ran 1:21.35 to take the second heat easily, with Spearmon easing up at the line. Barbados at 1:21.88 and Kenya third at 1:23.24 took the automatic qualifying spots; The Bahamas and China then advanced on time from the first heat, the former with a national record of 1:22.18.
Parker Morse for the IAAF