Kenyan wins first GOLD in Bahamas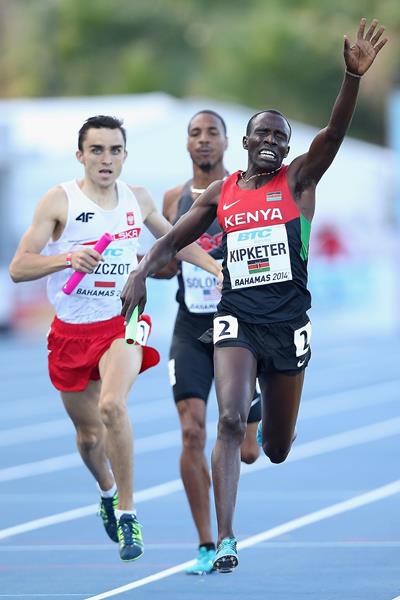 Nassau, Bahamas — Kenya became the first gold medallists at the inaugural IAAF World Relays when they took the men's 4x800m final in emphatic fashion, crossing the line in 7:08.40 and taking the US $50,000 first place prize money.
The Kenyan quartet made an obvious attempt at the world record, which has stood at 7:02.43 to another Kenyan squad since 2006, and led from gun-to-tape.
Ferguson Rotich leapt into a 10-metre lead at the end of the first lap, covered in 50.70.
Rotich then struggled on the second lap before handing off to Sammy Kirongo as Kenya reached 800m in 1:46.00.
Kirongo's first lap of 50.40 only extended Kenya's lead but again he slowed over the second 400m; 1600m was passed in 3:31.70 and the world record was clearly beyond their reach.
Things got rougher for the Kenyans on the second half of the race, however, as their pacing became more ambitious: 50.00 was the first 400m for Job Koech Kinyor on Kenya's third leg, but he came back in 57.90 and handed off to Alfred Kipketer almost at a walk.
Kipketer's ambitious 49.00 opening lap made it 6:08.60 for the Kenyans at the bell, but Kipketer also faded badly on his second lap, splitting 59.80 for a final time of 7:08.40.
The race that unfolded behind them was almost as exciting, with the lead shifting between the USA, Spain, Australia and even, briefly, Bermuda.
At the close of the third leg, Brandon Johnson and Marcin Lewandowski, of the USA and Poland respectively, handed off almost in unison to Duane Solomon and Adam Kszczot.
Kszczot, the two-time European indoor 800m champion, beat Solomon to the rail despite taking the stick on the outside, and as the pair closed quickly on Kipketer, he beat Solomon to the finish for a Polish record of 7:08.69.
USA took the bronze medals with 7:09.06; behind them Australia (fourth, 7:11.48), Mexico (sixth, 7:21.12), Bermuda (seventh, 7:21.87), Slovakia (eighth, 7:32.87), and Uganda (ninth, 7:53.34) all posted national records.
Only Kenya, the USA and Spain missed out on national records in the men's 4x800m final.
Parker Morse for the IAAF