Report: Women's 4x100m – Nassau 2014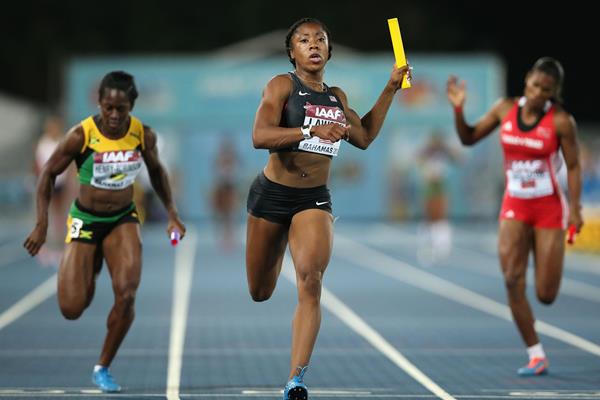 It was a Gold Rush for the American Women in Nassau Bahamas
Nassau, Bahamas — It was a blazing second bend by Jeneba Tarmoh which set up victory for the USA in the women's 4x100m final, and sharp baton work on all three exchanges didn't hurt, with the US team clocking 41.88.
The victory put the US women, who set the world record of 40.82 in the 2012 Olympic final, back on top of the global rankings for the sprint relay after taking silver behind rivals Jamaica at last year's IAAF World Championships.
Tianna Bartoletta and Alexandria Anderson set the race up, staying even with the Jamaican lead-off pair of Carrie Russell and Kerron Stewart.
Bartoletta even had the slowest reaction time of the eight finalists but, in the end, it didn't matter as Tarmoh scorched past Schillonie Calvert on the turn before passing the baton to LaKeisha Lawson and the US anchor had a free flight down the homestretch, even as Jamaica's Samantha Henry-Robinson tried in vain to close the gap.
Neither USA nor Jamaica had their top talent available, as Jamaica's winning anchor runner from Moscow 2013 and last year's IAAF World Athlete of The Year, Shelly-Ann Fraser-Pryce, though entered, did not run, and many of the top US women stayed home.
Jamaica held on to second in 42.28; third place went to Trinidad and Tobago, with Kamaria Durant, Michelle-Lee Ahye, Reyare Thomas and Kai Selvon bringing the baton around in 42.66, the latter overtaking Nigeria just a few metres from the line to grab third place by 0.01.
Most of the top quartets ran the same line-ups from the heats to the final, a fact which may have contributed to all 24 exchanges in the final coming off successfully.
Earlier, the USA won the first of three heats with 42.29, using Bartoletta, Anderson, Tarmoh and Lawson – the same line up they would run in the final – with Trinidad and Tobago taking the second automatic qualification spot.
Jamaica held off a strong challenge from Nigeria to take second heat, also in 42.29.
The third heat went to Great Britain – fielding Asha Philip, Anyika Onuora, Jodie Williams and Desiree Henry – in 43.20, with France taking the second spot.
Hosts The Bahamas finished third in 43.54 but just missed out on a place in the main final with the two fastest non-automatic qualifier spots going to Germany and Brazil, the third-placed teams in the first two heats.
Parker Morse for the IAAF