Millions more spent by taxpayers which should not have been spent had the former regime done things right – BUT NO ONE IN THE PRESENT GOVERNMENT WISHES TO SPEAK TO IT? NOW ISN'T DAT AMAZING!!!!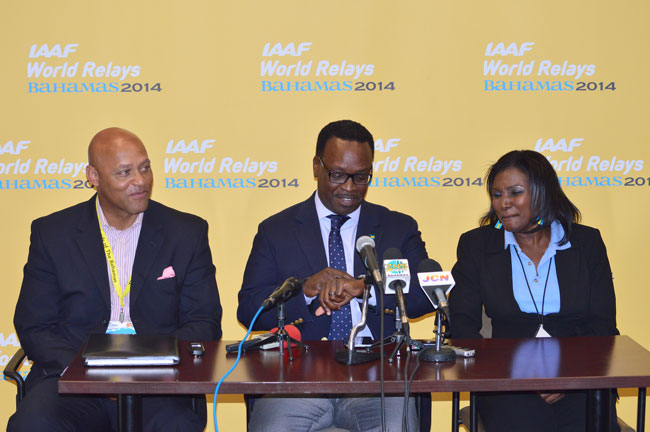 Another Breaking News only Bahamas Press can report!

Nassau, Bahamas — New Regime just spending money to fix the mess left by the former Ingraham Regime but refuses to tell the Bahamian people why millions more had to be spent for the World Relays….
Nassau, Bahamas — Just over one year ago, before CARIFTA was held in the Bahamas, we at Bahamas Press reported how the track placed down at the National Stadium could not get International certification.
We reported then that the stadium's track had to be redone. When we reported that, the Minister at the time denied that we could not get certification and suggested that he had some kind of certification in hand.
In that same article, we reported how the Ministry of Works never inspected the stadium and how bathroom systems were not working.
No one wanted to confirm how Hubert Ingraham botched up the damn stadium. And operatives in the PLP wanted to hide the crap which resulted in millions more being spent to fix the stadium. But now they say everything fixed and the world can now enjoy a world-class stadium.
When the 800 plus athletes from over 40 different countries step on the track at The Thomas A. Robinson National Stadium during this weekend's highly anticipated International Association of Athletics Federation's (IAAF) World Relays they will be stepping on an IAAF certified class one (1) level track.
The IAAF level one (1) certification for the track was received today, according to Minister of Youth, Sports & Culture, Dr. Daniel Johnson, who made the announcement during a press conference. "The track has met the highest standard in the world and we are now certified as a class one (1) grade facility." he said. "It is the newest track in the world and the fastest track on the planet."
Last year December, the National Sports Authority (NSA) engaged the services of Mondo out of Italy to reconstruct the properly classified track at the new Thomas A. Robinson National Stadium. The original track was the level of class two (2) and to host the IAAF World Relays, the track had to meet a class one, Minster Johnson said, There are three pieces needed to receive a class one certification and the Thomas A. Robinson met all requirements needed.
"Some people think it's just the surface of the track, but it's all the support features around the track that gives it class one certification. Class one means you have a performance track, you have another warm up track near the performance track that is 400 meters (m) with all the specs of the performance track and you also need a third streamer to give you the level that we are performing at now," he said.