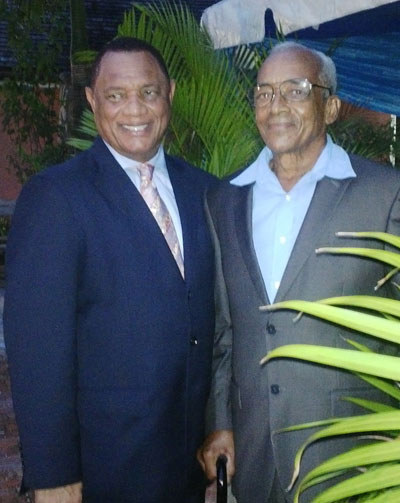 Nassau, Bahamas – On May 15, 2014, the Stephen G. E. Burrows Foundation was officially launched at the studio of Antonius Roberts, Hillside House on Cumberland Street. The objective of the Foundation, formed by the seven children of Mr. Burrows, LaVerne Deleveaux, Linda Treco, Stephen Burrows Jr., Lisa Bastian, Laurell Burrows, Faye Burrows and Felice Burrows, is to manage, maintain and continue their father's work, which began in 1973. It's mission statement is:  "To continue the culture of Art in Public Spaces – which became a passion of Stephen G. E. Burrows – through art donations, art education and beneficial contributions to the community of the Commonwealth of The Bahamas."
Keynote speaker, Prime Minister the Rt. Hon. Perry G. Christie expressed joy and privilege to speak on behalf of his long-time friend, reminiscing on the days they played together as boys on the baseball field. He additionally expressed pride in witnessing the contributions Mr. Burrows made to the country for many decades amidst his long dedication as an important part of the Bahamas Electricity Corporation, where he served for over forty years.
Amanda Coulson, Director of the National Art Gallery of The Bahamas, also contributed to the evening offering similar sentiments. She called on the Government to assist the efforts of Art in a Public Spaces by expanding the Gallery with a National Park for the display of these kinds of pieces.
Today there are eight pieces by Mr. Burrows currently standing throughout the Bahamas: Conch Shell – JFK and Westridge roundabout, White Crown Pigeon – JFK and Blake Road roundabout, Flamingo – Clarence Bain Bldg., Thompson Blvd, Rooster – Harold and Baillou Hill Road roundabout, Bacardi Rat Bat – Carmichael and Bacardi Roads, Pompey – Steventon, Exuma, Iguana – San Salvador, and the Abaco Parrot – Marsh Harbour, Abaco. In 1984, Mr. Burrows created an 18-foot Iguana, which the Government of of The Bahamas offered as a gift to the Wadsworth Atheneum in Hartford, Conneticuit, U.S.A. The first piece by Mr. Burrows, the Coat of Arms, was created to celebrate the Independence of The Bahamas. The Lobster, which is no longer standing, was perhaps the most popular piece by Mr. Burrows, followed closely by the Conch Shell.
A new addition is a few weeks from completion, the Triton Trumpet, which is slated to be displayed at the roundabout at John F. Kennedy Drive and Thompson Blvd; the final piece of Mr. Burrows is under construction and will be the most dynamic. It is a 30-foot dragon with mechanics built in, allowing it to emit fire and/or water.
Eldest daughter of Mr. Burrows, LaVerne Deleveaux, expressed gratitude to the Governments of The Bahamas, especially the Ministry of Works, which over the years afforded Mr. Burrows with the assistance necessary to create these pieces. She was also thankful for the presence of Government and Opposition Officials as well as B.E.C. past General Managers Peter Bethel and Bradley Roberts, as well as current General Manager Kevin Basden.