Sarkis paid no one – But collected Millions from everyone!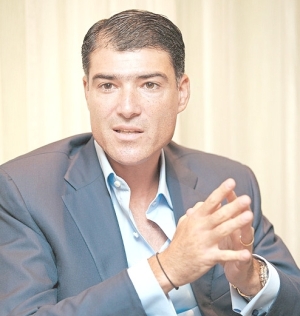 BMD Holdings, the developer of the Baha Mar resort project, today issued the following statement on behalf of its Chief Executive Officer, Sarkis Izmirlian:
"The appointment of a receiver by the Export Import Bank of China continues the unfortunate pattern of disastrous actions taken by other stakeholders since Baha Mar has filed for Chapter 11 that have moved Baha Mar further from completion and are now destroying any hope that Baha Mar, as originally conceived for The Bahamas, can become a reality. I, along with thousands of Bahamians, have worked very hard to make Baha Mar a reality.
"The facts are straightforward. China Construction America failed to meet its promises to complete the resort on the timetables it set, and failed to meet its financial obligations to Baha Mar, engaging in reckless and self-serving actions at the expense of the project as it now seems to be doing as well at The Pointe, in downtown Nassau. The Government of The Bahamas failed to meet its promises to Baha Mar, including making timely payments of monies it was obligated to pay Baha Mar. The result was a liquidity crunch last June that put Baha Mar at risk. To mitigate that risk the Board of Baha Mar determined that the proper, and only truly viable course, was for Baha Mar to voluntarily file for Chapter 11 under U.S. Law, a reorganization option that does not exist in The Bahamas as the provisional liquidation has now proven. Under Chapter 11, Baha Mar's assets would have been protected; we would have had the opportunity in a prudent manner to try to resolve the issues between the parties; we put forward a plan to pay all valid Bahamian claims in full; we were able to continue to pay the salaries of the more than two thousand Baha Mar employees; and any downsized employees would have received severance which sadly they will now not receive.
"However, the Government of the Bahamas, in concert with China Construction America and CEXIM, undertook a campaign that resulted in the Chapter 11 being dismissed. The effect of this effort by the government of the Bahamas, China Construction America and CEXIM now leaves Baha Mar in the position where CEXIM bank is now the owner of Baha Mar; most of its employees have been laid off; widespread collateral damage to hundreds of businesses; and its assets are being further impaired.
"Even under these circumstances, I have continued to try to make proposals to achieve a consensual resolution of the issues that would enable Baha Mar to be properly completed and to open. Unfortunately, the other stakeholders remain more focused on legal and political maneuvers than solutions. Neither CEXIM appointing a receiver, nor a winding up/ liquidation of Baha Mar, serve the best interests of any party and certainly not those of the people of The Bahamas. At the end of the day, whilst we want to see a beautiful resort open, the goal is also a thriving Bahamas."