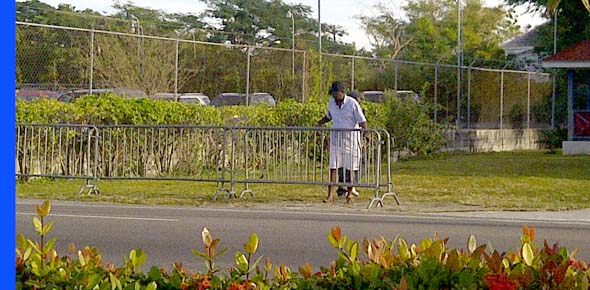 Nassau, Bahamas — A member in the FNM Mount Moriah Constituency Association telephoned BP this morning and asked us to come and take a look at their MP who is now up for re-election.
Just before 9:00 a.m. team BP arrived at the headquarters of Tommy Turnquest and what we saw we could not believe. The man in charge of all the armed forces in the country and who won the seat in 2007 was busy all by himself lifting barricades and toting heavy boxes as he began to set up his Christmas Party for residents.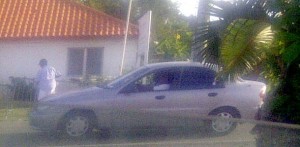 Bahamas Press could not believe what we saw and therefore he had to take photographs for memory. Here shown above early this morning is Cabinet Minister #3, the successor to the throne of the FNM, doing it all alone as former generals and aides all have abandoned the defeated lame duck MP.
One resident in the area told BP, "Looka him there…like the song says, 'all by himself'. When BTC was being sold Tommy was the minister selling away the future of the Bahamian children. I ga tell ya now Tommy could bring Santa Claus, Snow White, The 20 dwarfs and a Dumb Dora out today, me and my children ain't ga step a foot."
Meanwhile, in Stapledon Park PLP candidate Arnold Forbes and team "Number ONE" are setting up for a big, big fanfare as Forbes Christmas Party kicked off at 12 noon. The park ground in the heart of the Mount Moriah community is like the Carnival has relocated. This year Forbes held the biggest Back to School event not seen since the days of Pindling. The event was the size of the Red Cross Fair where children and parents in three constituencies were all lined up for surprises from the PLP candidate.
Boy, as the saying goes, "It ain't long nah! BP I-REPORT LIVE ON THE GROUND!
WE REPORT YINNER DECIDE!