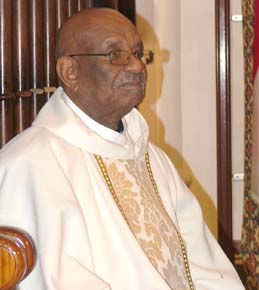 Nassau, Bahamas — Breaking News coming into Bahamas Press confirms the death of a noted Anglican clergyman.
We can report Canon Neil Roach, retired Anglican Priest, has died in Doctors Hospital shortly after noon on Saturday [Today]…
The 78-year-old was ordained into the Diaconate on December 21st, 1956 and to the Priesthood on the same date in 1957 at Christ Church Cathedral.  He served as Associate Priest at Christ the King, Nassau, Bahamas.
He was appointed Honorary Consul for Trinidad and Tobago in The Bahamas and was a spokesman for the indigenization of the Anglican clergy following The Bahamas' Independence in 1973.
After medical ups and downs Canon Roach recently suffered a ruptured artery. Attempts were made up to late yesterday to have him airlifted to the US, however his condition worsened. Surgery began today at Doctor's Hospital where every attempt was made to save his life by Dr. Duane Sands.  However, the priest who served the people of God for more than 55 years, moved from death into eternal reward.
BP sends our deepest condolences to his wife and daughters and the entire Anglican Community. Rest eternal grant unto him O Lord.
My the angels receive you. May they Saints greet you and welcome you into that CITY of JOY everlasting! May he rest in peace…AMEN!