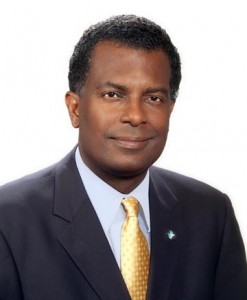 STATEMENT
by FRED MITCHELL MP, FOX HILL
ON THE PASSING OF CANON NEIL ROACH
17TH DECEMBER 2011
FOR IMMEDIATE RELEASE
The Progressive Liberal Party is saddened to learn of the passing of Canon Neil Roach who died yesterday at Doctor's Hospital.
He is hailed as a servant of God, a hero and giant of a man.
Canon Roach was the longest serving rector of Holy Cross Anglican Parish and along with other esteemed clergymen, notably the late Canons William Thompson and Dudley Strachan, played a significant role in the civic life and development of The Bahamas for more than one half century and indeed our country has suffered a great loss.
As honorary Honorary Consul to Trinidad and Tobago, his influence transcended religion where he contributed to shaping of regional foreign policy. When I served as Foreign Minister, we enjoyed very good working relationship and I experienced first hand the outspoken nature of Canon Roach as he held strong views about the cultural norms of the Anglican Church and about regional cooperation.
On behalf of the Progressive Liberal Party, I express heart felt condolences to the Roach family and may God's grace comfort the Roach family during their hour of bereavement.
May his soul and souls of all the dearly departed rest in peace.