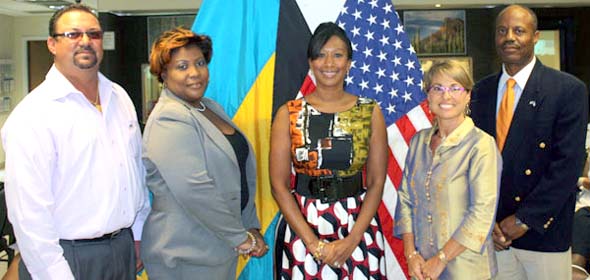 Nassau, Bahamas – United States Ambassador to The Bahamas, Her Excellency Nicole A. Avant hosted a Town Hall Meeting for the American Community on Wednesday, May 18, to encourage Americans to begin preparing for the upcoming hurricane season.  She was joined by Michael Stubbs from the Department of Meteorology and John Nixon, Director of Safety and Security at the Ministry of Tourism , who provided important information about hurricanes as well as planning and preparation in the event The Bahamas is under a storm or hurricane watch or warning. The meeting served as a reminder of the need to plan ahead as much as possible because a natural disaster can strike at any moment.
Chief of American Citizen Services, Joanna Weinz, provided an overview on the services provided by the U.S. Embassy, noting that consular work touches peoples' lives in a thousand different ways every day, everywhere around the world.
"The U.S. State Department's first priority is to protect the safety and interests of U.S. citizens everywhere.  We issue the passports that allow them to travel the globe, and we help prepare them for possible crises through our Smart Traveler Enrollment Program , standard precautionary advice, and specific information about potential threats.  We want all Americans living abroad to be proactive and prepared for whatever might come their way," Joanna Weinz explained.
The Bahamas is one of the top overseas tourist destinations for U.S. residents, with over five million American citizens visiting each year.
When a hurricane threatens The Bahamas, the Embassy puts out regular updates, both on the website, http://nassau.usembassy.gov and by "Warden Messages" emailed to registered Americans.  U.S. citizens in The Bahamas are encouraged to enroll in the Smart Travel Enrollment Program at http://travel.state.gov .  The Smart Traveler Enrollment Program allows the Embassy to better assist American citizens abroad in times of an emergency.