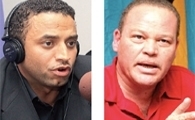 Nassau, Bahamas — Branville McCartney was quick to find the media yesterday and respond in kind to BP, indirectly.
While on the newscast last night, McCartney said his DNA will not fall into the fold of the FNM or the PLP but is resolute about seeing his Party's fight to the end.
Firstly, when BP says something and refuses to retract it, everybody and they 'mah' know we are onto something. However, let's look deeper at the DNA.
As far as we are concerned the Party really has yet to ratifiy a leader. McCartney is considered to be the magnet at the top, but no declared leader exists. The organization has no deputy, no chairman, no council and no committee. All that exist right now are agents collecting $40 membership fees with the promise, 'this is our time'.
One would wonder why not one independent would follow the new Party, when so many exist. NOT ONE, except the Worker's Party leader, which also has no structure but one leader for the past 30 years.
But since Branville has gone public to say he is not negotiating with the FNM, and we agree he is correct in saying so. Branville is not negotiating with the FNM, but factions in his Party, who are KNOWN FNM operatives, are.

Bahamas Press reported yesterday the following:
"Sources in the position to know tell us, Sir Duward Knowles have begun talks between both factions in order to jab a deal and return Branville as a possible successor to the FNM throne.
BP can confirm the deal is to return Branville into the Ingraham Cabinet at the time of a shuffle, which is expected to take place shortly following the June the 2011/12 National budget debate in the Parliament."
A strong FNM groups which make up the DNA who hail from the Free National Movement is connecting with operatives in the FNM and here's an example of what ya get.
Come this Saturday May 21st, the DNA is headed to Arawak Cay for a Big Steak Out Party. And then again come next Saturday May 28th, the FNM is headed to the same venue to have a similar event. Big Steak Out under the theme Grill and Chill. Now if that is not a Party with the same DNA then tell us what is.
Branville is headed back to his home in the FNM. Perhaps he just don't know yet.
Bahamas Press, WE REPORT…YINNER DECIDE!