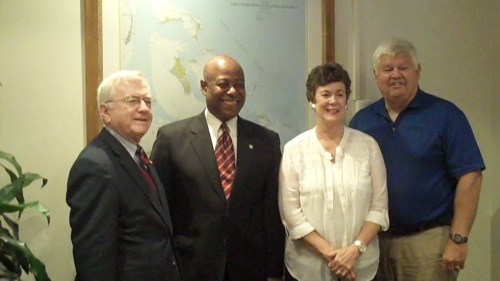 Nassau, Bahamas – Representatives from "America's leading service organization" paid a courtesy call on the Minister of Tourism, Obie Wilchcombe today. The Ruritan National Fellowship Group presented the minister with a Proclamation approved by the Greenville County Council of South Carolina announcing September 12 as International Friendship Day.
The Proclamation was presented by the group's liaison, Mr. Fred Payne, who is also the Planning and Development Chairman for Greenville County. Over two hundred Ruritan members are visiting The Bahamas via cruise ship for their annual fall meeting. The group will also be meeting the Minister of Grand Bahama, Dr. Michael Darville during their visit.
Ruritan is a national organization dedicated to improving communities and building a better America through fellowship, goodwill and community service. They have over 1,000 clubs and over 30,000 members.
Most of the group members have varied backgrounds and interests including education, fund-raising, business and Government.
Pleased to hear that Grand Bahama was their next stop, Minister Wilchcombe said, "We have a tremendous history and you'd find that each island has something different, but the only thing that is consistent really [is] the people. We are a very warm people".