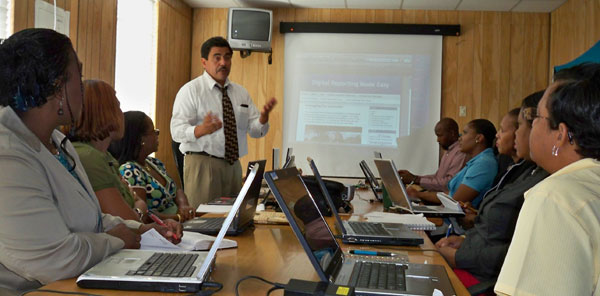 Nassau, Bahamas – Robert J. Lopez of the Los Angeles Times gave a presentation for reporters, students and citizen journalists in the Bahamas from September 16 – 18, 2010 . The presentation was sponsored by the U.S. Department of State and the U.S. Embassy in Nassau.
The Internet and social media platforms have forever changed how news and information are delivered. Professional reporters, along with legions of citizen journalists and bloggers, are producing reports instantly via their blog pages and networks such as Twitter, FaceBook and YouTube. This trend is being accelerated with the growing use of a new generation of mobile devices such as android phones and iPhones.
Robert Lopez' workshops explore the latest techniques to share information and interact with viewers using software and tools that are free and easy to use. Workshop participants  learned about the ethical and legal issues confronting journalists when publishing digital content. The workshops also provided participants with an understanding of how to tell stories with text, videos, photos and interactive maps. He even created a website with simple "how to" lessons loaded with data from The Bahamas.  Participants walked away with basic flip cam skills, the tools to create their own blog , and links to citizen journalism networks worldwide.
Robert J. Lopez has combined an investigative reporting background with digital media skills to produce powerful multimedia projects for the Los Angeles Times. Lopez was part of a reporting team at The Times that won a Pulitzer Prize for coverage of the 1994 Northridge Earthquake. That 2005 series, documenting how an L.A. street gang became a transnational criminal network, won an annual in-house editorial award for the best multimedia project. The judges called it a "groundbreaking" effort.
Everyone can learn from Robert Lopez virtually by accessing his " Digital Reporting Made Easy " website which is tailored made for The Bahamas.  You can find it at the following link:  http://bahamasdigitalmedia.wordpress.com