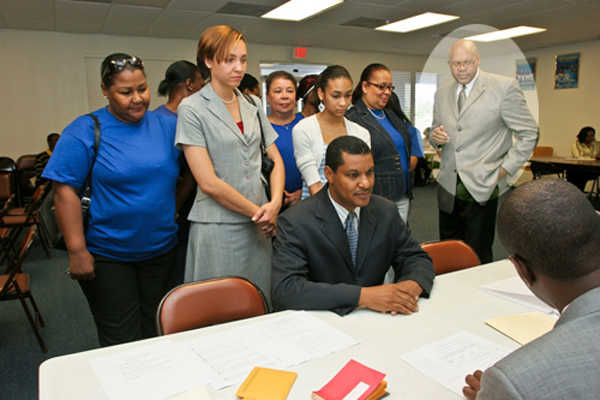 <<<Cornelius Alvin Smith Jr had teamed up with well know business man, Philip Franks, they were last year running on a team ticket for Lucaya. Smith is pictured presenting his forms with his wife, daughter and supporters. His running mate Philip Franks and his wife are on his right.
Freeport, Grand Bahama — Another major insurance scandal is now being uncovered on the island of Grand Bahama, and Bahamas Press again has the details. We  confirm that a second insurance company will collapse like CLICO.
We can confirm that the policyholders of Trinity Insurance on that island have been duped by another insurance scheme. Claims are that the company raked in millions from policyholders who are now discovering they have no insurance coverage!
We now know the company is headed by Lucayan local government council member, Philip Franks. The company was opened back in 2002, under the Christie administration, but Franks is hardcore FNM. Just like CLICO, Trinity underwrote insurance for scores of Grand Bahamians under another major company, Security & General, headquartered in Nassau.
Trinity, we are told, wrote million of dollars worth of life, health, boat, car and house insurance for residents on Grand Bahama. What does this mean? It means that Trinity Insurance now joins the laundry list of Ponzi schemes now operating in The Bahamas, just as CLICO did. Look what BP has uncovered.
We also now know that while policyholders paid their premiums, no money was being transferred to Security & General to cover the clients policies. Trinity, we are told, not only withheld the funds payable to Security & General for carriage of the policies, but also issued fake contracts to policyholders. The company we are informed lied to clients telling them they were indeed covered, but they were not!
Documents now in the possession of BP confirm that the insurance certificates written and issued by Trinity were indeed fraudulent. "They were not genuine at all," an officer at S&G told BP. This is not good!
Where is the government's Registrar of Insurers department in all this? Where is the government's regulatory body to insure that a CLICO never happens again in The Bahamas?
Sources deep inside Trinity Insurance tell us, when operators at the Freeport office realized Security & General had caught on to what they were doing, Franks destroyed all client files and documents at the office and deleted all computer records. Again, the same way CLICO BAHAMAS cleaned out its filing room in Nassau back in 2007.
"How much more must we on Grand Bahama suffer at the hands of these 'vicked' insurance companies? How much more can we take?" one former policyholder of Trinity said with her hands projecting in the air.
In last year's local government election in Grand Bahama, Franks ran as the teammate with C.A. Smith Jr, the son of former MP C. A Smith. Security & General we also know wants Franks jailed and is hoping that a criminal investigation is opened. The company is preparing to file papers in the Supreme Court on the matter and hopes Franks will face jail time for issuing fraudulent documents accumulating in the millions if found guilty.
Another businessman close to this developing story on Grand Bahama asks, "Where are the authorities to make these insurance companies accountable? Where are the authorities to make these insurance companies pay? People are paying millions of dollars for insurance coverage in this country, yet years later they discover they are not insured. Someone needs to go to jail, because this is criminal!"
Early this year CLICO Bahamas collapsed leaving thousands of policyholders without any insurance. The company operated a Ponzi Scheme here in country. Operators wired out of the jurisdiction over $74 million worth of clients funds over a 5 year period. The Central Bank claimed no money was moved. Prime Minister Rt. Hon. Hubert Ingraham has since announced a $30 million guarantee to attract a buyer of the collapsed insurance company, however, no buyer to date has come forward.
We know despite all this, Trinity is open for business operating at Suite 101 Canada Life Building, Poinciana Drive on Grand Bahama, and can be contacted at Tel: 351-2022. THIS IS INCREDIBLE!]