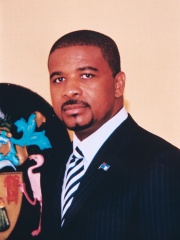 <<< Former Premier of the Turks & Caicos Island, Michael Misick.
CLICK TO READ THE REPORT: tci-inquiry-final-report-unredacted-2009-j
Turks & Caicos Island — The finding by the Commission of Inquiry down in the Turks and Caicos Islands were published today. The Report posted a summary of its findings and recommendations.
FLAGRANT abuse of power, accepting bribes from developers, profiting from the sale of Crown land and the use of public funds as a personal bank account were all raised in the Report.
These are just some of the charges leveled at the former Premier and four of his Cabinet members contained in the hotly anticipated corruption probe's final report.
Commissioner Sir Robin Auld points to a "high probability of systemic corruption" and reveals, for the first time, names of the former Ministers potentially facing jail terms for racketeering and malfeasance.
The Commissioners confirmed that the former Premier on the island, Michael Misick, abused his position. It reported that Misick failed to account for expenditures of public, his Party and personal funds. It advises that a criminal investigation commence by police and others, in relation to him of possible corruption and /or serious dishonesty whilst he headed the tiny British territory.
The Report also recommended criminal investigation be commenced to members of Misick's Cabinet including; Floyd Hall, McAllister Hanchell, Jeffery Hall, Lillian Boyce. Its recommendations are many and today Bahamas Press invites you to commit to your reading.