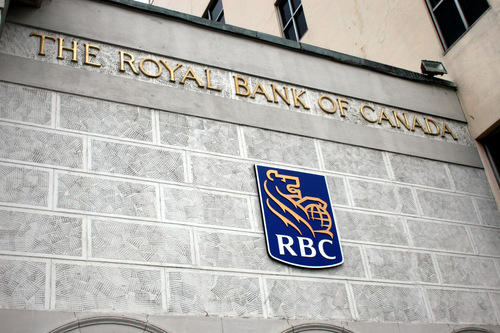 <<< Royal Bank main branch in downtown Nassau.
Nassau, Bahamas — In May we at Bahamas Press warned you of SCANDALS in the RBC family. We touched on the fact that the 'old boys club' at RBC "has a habit of bending over backward to reward BAD BEHAVIOUR, whilst longstanding, decent, hardworking employees cannot see the light of day."
You would remember we introduced Toure Holder. Yes, the bank's SPOIL BRAT who fled the island of St. Kitts after licking gunshots at a relative of the late former Prime Minister, Lee Moore ["Woody Big Wood Moore"]. (Click to read story)
The goon squad from Canada now headed by WUTLESS Ross McDonald, has now done the unthinkable. Holder we understand will now assume a new role in the Bank effective August 4th. He will become the new Area Manager, Family Islands and Manager Marsh Harbour. Bankers on the fourth floor in Royal House tell us, Toure continues to hold progressively responsible positions over the last several years despite his noted criminal actions while in St. Kitts. The Bank is once again praising "BAD BAHVIOUR".

We warn Holder, Marsh Harbour, Abaco is no St. Kitts. Try licking gunshot there, and we guarantee some 'crazy head' from Abaco will lose their cool on him this time. [Someone did something similar just last week in Abaco on another man, but could not drag the body no further to one a them blue holes].
Today, however, our story takes us someplace else inside RBC. We tell the story of someone who has worked hard and long. She is a young banker, who is now on suspension [without pay] at the Bank. She is a sick woman and because of her ailments, cannot see any light of mercy from RBC's fourth floor. She tells Bahamas Press of another dark side of the RBC coin.
The employee, who wishes not to be name, cried foul and questioned, "What kind a piece a [expletive] is RBC these days? For years I've been a dedicated employee at the Bank. I've been coming to work from 7am in the day to 7pm in the night and look what they did to me. What have I done to deserve this?"
BP has learned that the female employee was on medical leave at the time of her suspension and was unaware of the fact that the Bank decided to dump her, after she became sick. "My doctor called and informed the Bank of my condition. Yet RBC completely ignored my doctor's communications and my supervisor's advise," the suspended employee said.
She still questions why was she suspended from the Bank and ponders why will no one at the operation accept the case that she is indeed ill? Sounds like the Bank needs a union.
BP has also learned that former head of loans and collections Ms. Quincy Fisher was also demoted at the Bank. Fisher we understand was kicked out of her plush office at Royal House and thrown into a rinky-dinky cubbyhole cubicle in the collection centre. Boy, this Bank hates women ech?
A few months in late spring, RBC chopped the head off and fired its manager at the Prince Charles Shopping Centre, Keith Lloyd. He was another honest, dedicated and loyal worker dumped by the bank.
Bahamas Press cries SHAME on the 100 plus year-old institution! Particularly, after hearing these latest actions against dedicated employees. The Bank's ABUSE against workers, particularly its FEMALE bankers, is UNACCEPTABLE! Perhaps its time for the Bank to become unionized, or in failing to do so, become like CLICO and just disappear from face of the country!